New Star Wars Game Show For Kids Is Like Double Dare With Jar Jar Binks
This new Star Wars show looks legit.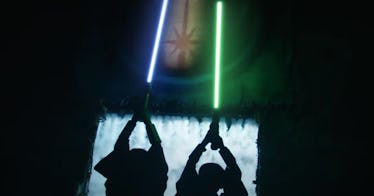 Remember Double Dare? Remember caring about Star Wars? Well, now loving Star Wars won't just be distant, pre- Rise of Skywalker memory, with a new show hitting the Star Wars Kids YouTube channel on June 3. The new show, Star Wars: Jedi Temple Challenge, is like a Double Dare-meets Jedi training competition show for kids that puts teams of kids together to train to become Jedi knights.
Padawan teams endure challenges and trials, like climbing ropes and walls, solving puzzles and quizzes, and figuring out logic games, and using their strength and wits to enter the Jedi temple. There also appear to be traps that might lead little kids into the dark side, which really just makes the show seem all the more entertaining.
The show will be hosted by Ahmed Best, the man otherwise known for being the voice and body behind Jar Jar Binks in the prequel Star Wars film, The Phantom Menace. It's great to see him officially attached to a Star Wars project again, given how much vitriol his characterization of Jar Jar Binks received when the first prequel film was released. And now, his kid gets to see his dad train little Jedi knights into becoming young, hardened, youthful Sith warriors.
But perhaps Ahmed Best won't be the kind, virtuous character that Jar Jar Binks was. After all, Ahmed has publicly endorsed the theory that Jar Jar may have been a Sith Lord all along. The argument, which has been around since at least 2015, was confirmed when Best was interviewed by Kevin Smith, of all people (who defended Binks, saying that he was a kid-favorite in 1999) said that he believed that Jar Jar could have become a Sith Lord.
So maybe he will try to lead the kids to the dark side, giving them yet another challenge as they fight to enter the Jedi temple. But, who knows! The show looks fun and that's all that matters.
Star Wars: The Jedi Temple Challenge will air on the Star Wars Kids YouTube channel weekly on Wednesdays, starting June 3. It will also air on StarWarsKids.com at the same time.
This article was originally published on