32 Years Later, This Classic Prince Album Will Be Re-Released With 47 New Tracks
Never-heard-before music from the Purple One is coming.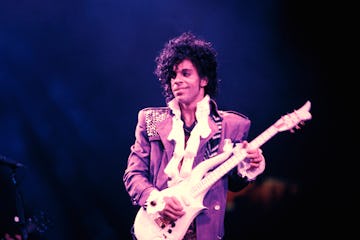 Richard E. Aaron/Redferns/Getty Images
Prince fans are in for a very big treat! Never-heard-before music from the late superstar, along with a reissued classic album, is coming soon.
According to Billboard, Paisley Park Enterprises announced it's releasing a deluxe edition of Diamonds and Pearls, the iconic 13th studio album by Prince and The New Power Generation. The release is in partnership with Sony Music and will contain nearly four dozen previously unreleased tracks.
The fully remastered album re-release will contain 47 new tracks and two hours of unreleased concert footage in three formats. The super deluxe edition will include 7 CDs plus a Blu-ray or a 12 LP plus Blu-ray with audio-only download and streaming, per Billboard.
The deluxe edition will contain a double CD or four LPs on vinyl; the remastered album will allow purchases to buy either a single CD, a double off-white "pearl" colored vinyl LP, or a double clear "diamond" colored vinyl LP with download and streaming.
Variety reports the album will also come with a 120-page photo book of essays and a forward written by Chuck D, one of Prince's former collaborators. "As a companion collector piece, fans have the opportunity to order a numbered 7" singles boxed set, strictly limited to 1,991 units," Variety reports.
This boxed set will include "remastered audio for six official singles released in 1991 and 1992, the set contains a brand new 7" single comprising two previously unreleased tracks, "Alice Through The Looking Glass" and "Horny Pony (Version 2)."
The new edition of Diamonds and Pearls is set to hit store shelves on October 27, with the various versions ranging from $12.98 to $394.98. Each edition is available now to pre-order from Prince's official online store, where you can also purchase other Prince memorabilia.