New Harry Potter Book Will Make You Feel Like You're Finally a Hogwarts Student
Readers get a peek inside the Wizarding school and even learn secrets about the Harry Potter films.
by Catherine Santino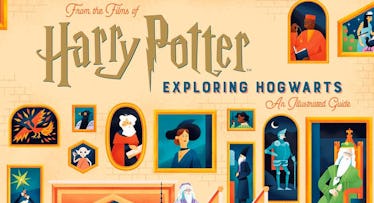 by Jody Revenson
Of all the locations in the Wizarding World of Harry Potter, Hogwarts is by far the most intriguing. The wizarding school is a place of mystery, danger, and disaster, but also serves as a home to Harry and his friends. It's also where we meet many of the most influential characters in the series. Thanks to a new interactive book from author Jody Revenson, Harry Potter fans can explore Hogwarts and all the magic it has to offer in Harry Potter: Exploring Hogwarts: An Illustrated Guide.
According to the Amazon description, Reveson's book "pairs striking full-color illustrations of Hogwarts with interactive elements that reveal key movie scenes, concept art, and behind-the-scenes info on the most memorable locations within Hogwarts School of Witchcraft and Wizardry." The 48-page hardcover book is recommended for grades 3-4, but HP fans of any age would likely enjoy it. The colorful pages allow kids to go look inside iconic locations like the Forbidden Forest, the Great Hall, and Quidditch Pitch, as well as learn behind-the-scenes facts about the films.
Harry Potter author J.K. Rowling was not involved in the creation of the book, but Revenson has written extensively about the Harry Potter films in other books such as Harry Potter: Spells & Charms: A Movie Scrapbook and Harry Potter: Hogwarts: A Movie Scrapbook.
The title releases October 8, but can be pre-ordered now on Amazon, Barnes & Noble or Indiebound now for $29.99. The book is also the first in a series large-scale, interactive books that explore the Wizarding World, so there's more magic to come.
This article was originally published on