New CDC Camp Guidelines Offer Hope for Safe, Fun Summer
Make sure your camp follows these guidelines before sending your kids.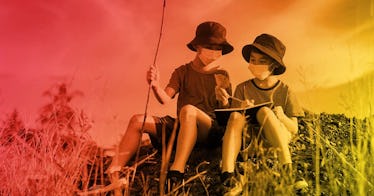 The Centers for Disease Control and Prevention released new guidelines on Saturday for camps to open safely this summer. The recommendations follow many of the same rules that the CDC has issued for schools, including wearing masks, physical distancing, and limiting contact between children in different cohorts.
However, there are several additions, including special guidance for overnight camps. These guidelines are designed to protect children — the largest unvaccinated population — from COVID-19. And in general, they are great news for parents, who can rest assured that the CDC has got their back when it comes to getting just a few sacred hours away from the kids after a weird summer, and bad COVID-19 year.
CDC Day Camp Guidelines
Masks: The CDC announced on Tuesday that vaccinated people no longer have to wear masks outdoors, so long as they're not in a crowd. Camp is the exception to the rule. Vaccinated adults should still wear masks when working with youth. All children above age 2 should also wear a well-fitted mask. Exceptions include activities such as eating or drinking, swimming, and napping. Be sure to pack your kids with extra masks each day so they can easily swap out a dirty or wet mask for a clean, dry one.
Cohorts: Camps should sort children into small cohorts that they do most activities with. Limit mixing of cohorts to limit potential COVID-19 exposure. If possible, assign staff members to only one cohort.
Physical Distancing: Six feet of distance is needed between campers and staff, between staff members, between campers of different cohorts, and between people eating or drinking. Campers within a cohort need to be only three feet apart, except for when eating or drinking. For this reason, the CDC advises against close-contact sports.
Get Vaccinated: Everyone who is eligible should get vaccinated as soon as possible.
Get Outside: Activities should be held outside whenever possible. Sports should be played outdoors only, and staff and campers should eat outside when possible. During indoor activities, be sure that the building has good ventilation.
Sick? Stay Home: Encourage staff and campers to stay home if they are sick. Unvaccinated people should also quarantine at home if they have a known exposure to COVID-19. Fully vaccinated people do not have to quarantine if exposed.
Encourage Good Handwashing: Require campers to wash their hands frequently. If the hands are visibly dirty, use soap and water, not hand sanitizer.
Disinfecting: Touching contaminated surfaces is not a major way that COVID-19 is spread. However, camps may want to disinfect shared spaces when COVID-19 transmission is high in the community, if few people are wearing masks, if handwashing is infrequent, and if people who use the space are at high risk for severe COVID-19.
CDC Overnight Camp Guidelines
Many of the same rules apply, but there are several differences and additions.
Pre-Camp Quarantine: Campers and staff should quarantine for two weeks before camp starts. This includes physical distancing, wearing a mask when not at home, avoiding unnecessary travel, and abstaining from indoor gatherings.
Get Tested: All unvaccinated people should get tested 1-3 days before heading to camp. Camps should test unvaccinated staff and campers again 3-5 days after arrival.
Screening: Screen for COVID-19 symptoms and exposure when entering camp or before boarding a bus to enter camp. Check for symptoms daily.
Household Cohort: Campers staying in a bunk together are essentially a household. They do not need to mask or physical distance when alone together. Staff are considered part of the cohort if they sleep in the bunk with the campers.
Isolate Sick People: If someone develops COVID-19 symptoms, isolate and test them immediately. If they test positive, follow CDC guidelines for quarantining and testing people who they have been in close contact with. Unvaccinated members of the positive person's household cohort should quarantine as a group, and all members should get tested. Unvaccinated close contacts outside of the household cohort should also quarantine.
The Lowdown on Summer Camp COVID-19 Risk
Kids are less likely than adults to get seriously sick with COVID-19. However, they can still transmit the disease to others, and some do need treatment in a hospital and even die.
Luckily, summer camps don't seem to fuel the transmission of the coronavirus. Out of nearly 500 camps that operated during the summer of 2020, only three camps reported an outbreak, according to a preprint study that has not yet been peer-reviewed. Only about 15 percent reported at least one case. These numbers are already low, but the vaccination of staff members will make camp safer this year.
Camps are important for the social, emotional, and physical development of children, according to the CDC. They help curb the summer learning loss. They keep kids active, encourage them to develop social skills, and give them the chance to try new activities. But it's crucial to do so safely. When choosing a camp for your kid this summer, make sure that it's following the CDC guidelines.
This article was originally published on