If You're Looking to Buy a New Car, Avoid These 10 Marked-Up Vehicles
Consumers are willing to pay above sticker price for the car of their choice because they can and don't want to wait.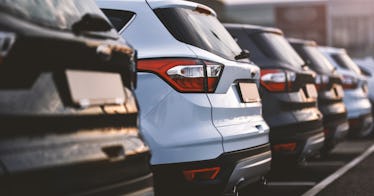 alexfan32 / Shutterstock
Buying a car isn't as simple as it looked to be when we were kids. There's a lot that goes into deciding one of the bigger purchases a family makes. Choosing whether having more seat space is more important than extra trunk space, or if it's better, in the long run, to buy used or new are decisions that have to be weighed on personal factors. The scope can be so big that sometimes it's best to narrow down what you don't want. If you're in the market for a new car, avoid these 10 most marked-up vehicles which may not be worth the money in the long run.
iSeeCars wanted to find out which new cars have the highest markups compared to the vehicle's manufacturer's suggested retail price (MSRP). It's a unique time in the car industry as the pandemic supply chain issues continue to impact the manufacturing of cars.
"Production shutdowns and supply chain issues from the ongoing microchip shortage have drastically lowered new car inventory," iSeeCars reports. "As demand continues to exceed the supply of new cars, dealers are pricing new cars above MSRP and removing new car incentives." That being said, it's not like used cars are much cheaper at this point, either.
Dealerships are pricing above MRSP to try and offset the lower sales volumes that are a result of restricted new car production, iSeeCars Executive Analyst Karl Brauer explains. Adding, "In today's market, consumers are willing to pay well-above sticker price for the most in-demand vehicles because it's the only way they can get the vehicle of their choice and avoid a lengthy wait."
iSeeCars wanted to find out which new cars were marked up the most so they analyzed over 1.2 million new cars that were listed between February 1 and March 25, 2022. They took that data and compared the list prices of the cars to the MSRP.
"The average difference was expressed as a percentage from MSRP and used to rank models," the site explains. "Low-volume models and heavy-duty vehicles were excluded from further analysis."
What we're left with is a list that is an interesting mix of luxury cars and cars parents might be in the market to buy.
Jeep Wrangler – 26.7 percent above MRSP at an extra $8,925
Ford Maverick (Hybrid) – 25.0 percent above MRSP at an extra $5,601
Porsche Macan – 23.3 percent above MRSP at an extra $13,254
Jeep Wrangler Unlimited – 22.9 percent above MRSP at an extra $9,534
Jeep Gladiator – 22.5 percent above MRSP at an extra $9,824
Ford Maverick – 22.2 percent above MRSP at an extra $5,368
Lexus RX 450h – 21.0 percent above MRSP at an extra $10,365
Ford Bronco – 20.6 percent above MRSP at an extra $7,783
Genesis GV70 – 20.0 percent above MRSP at an extra $8,611
Mercedes-Benz GLB – 19.8 percent above MRSP at an extra $7,992
"New car buyers will probably have trouble finding available inventory and can expect to pay higher-than-average prices for vehicles that are in high demand," Brauer said. "New car shortages are expected to persist due to the backlog of demand, and the Russia-Ukraine conflict has led to factory shutdown and pricing increases on raw materials. The best way to avoid paying over sticker is to broaden your search radius and to consider similar vehicles that may not have the same degree of price hike."