Don't Worry, Neve Campbell Is Back For the 'Scream' Reboot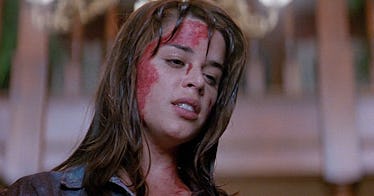 Dimension Films
The Scream reboot is starting to look really, really exciting. After news broke a few weeks ago that both David Arquette and Courteney Cox would be reprising their roles from the first few Scream movies as Dewey Riley, the bumbling cop, and Gale Weathers, the enterprising television reporter, in the reboot, fans have been patiently holding their breaths to see if Neve Campbell would return at Sidney Prescott. Luckily for us, she finally has confirmed that she will be reprising the bad-ass role — and ideally, kicking ass and taking names. After all, as most Scream fans know, Neve never dies. It's hard to imagine that this time it would change for anything.
But although Dewey, Gale and Sidney will be back, there are, of course, newcomers to the franchise. Jack Quaid, who has made an impressive turn starring in The Boys, the critically-acclaimed Amazon superhero show that basically asks the extremely reasonable question, "what if superheroes were dicks?" will be in the movie. But will he be good, or will he be a murderer in a mask? Melissa Barrera and Jenna Ortega will also join the star-studded cast and the film is slated for an early 2022 release — meaning that we all have something to look forward to. The first Scream, which came out in 1996 — 24 years ago! — was the highest grossing horror film of all time, until Jamie Lee Curtis rebooted Halloween in 2018, proving that when it comes to scary movies, the 90's is still king.
And, it's not as though this reboot is some trussled up, reanimated zombie of a film. Of course, the Scream franchise would never stoop to such lows (can you tell I am a fan?). Only nine years ago, Scream 4 hit theaters, so the possibility of a Scream 5 was never too far from reality. Hopefully this film will have as many twists, turns, and gags as the first four Scream movies.