Netflix Is Going to Make You Stop Sharing Passwords — Or Are They?
The streaming service has mostly been all bark, no bite when it comes to restricting viewing access.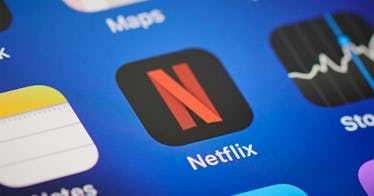 Getty
Password sharing is an essential part of the Netflix experience, as it's estimated that one-third of all users are giving friends or family members access to their accounts. But obviously, this "share the wealth" approach to streaming is not exactly ideal for Netflix, which is why the streaming service has begun experimenting with how to keep people from accessing accounts that they aren't paying for.
Several users have already reported that a message has taken over their screen which reads, "If you don't live with the owner of this account, you need your own account to keep watching."
Netflix has experimented with limited account access in the past but has mostly been all bark, no bite when it comes to restricting password sharing. However, with the successful launches of Disney+ and HBO Max over the last two years, Netflix may be more motivated to ensure that it is making as much money as possible.
"This test is designed to help ensure that people using Netflix accounts are authorized to do so," A Netflix spokesperson noted.
Currently, a Basic Netflix Plan costs $8.99 per month, which allows an account to watch on one screen. For $13.99, you can access a Standard Plan which allows an account to be accessed on two different screens at the same time, and you can get the Premium Plan for $17.99, a single Netflix account can be accessed on four different screens simultaneously.
However, this plan is meant to apply to a single household, as Netflix's terms and conditions state "any content viewed through the service are for your personal and non-commercial use only and may not be shared with individuals beyond your household."
For now, it remains unclear how much work Netflix will actually put into keeping accounts from being used in separate households but if the streaming service does start cracking down, millions of users may have to decide if they're willing to pony up the dough or try giving up Netflix altogether.
This article was originally published on