How to Watch Netflix With Your Friends In Quarantine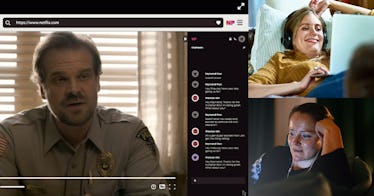 We are all struggling with figuring out how to have a social life and see the people that matter to us without being in the same room as them. This social distancing is harder than it sounds, but thankfully, there are some tricks and tips to make this whole thing work. If you're used to getting together with your friends to watch Netflix, there is a hack in place so you can still stream together, in your own separate homes. Here's how it works.
There's a browser extension that's been around for several years, but given that we're all in quarantine right now, it's become more relevant than ever. It's an extension called "Netflix Party" that allows the Chrome extension to allow multiple users to watch any Netflix title at the same time. There was another update last week that added seven servers to allow for the increase in demand.
One person starts up a Netflix show on their computer and clicks on the Chrome extension button to create a "party," and then they would share the link that's provided with the people they want to watch the show with. Those who wish to join the party also need to have the browser extension installed on their computer.
To find the Google Chrome extension, head to netflixparty.com and click "Get Netflix Party for free!" This will send you to the Netflix Party page on the Chrome web store and you can download from there. Be sure to send the link to your friends and family so they can download the app as well, if you want them to join your party.
With the Netflix party, you can watch along at the same time and chat in real-time just as you would if you were in the same room.
This article was originally published on