Nerf Versions of Classic Halo Guns Are Coming. Here's How to Buy Them
Time to show your 'Fortnite'-loving kids who's boss.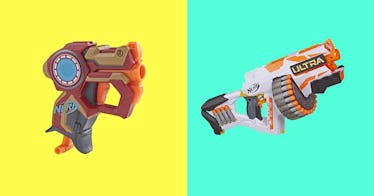 Nerf has already released toys inspired by the respective arsenals of Fortnite and Overwatch, both of which have delighted the young fans of those games. And now the parents of those kids, the generation that grew up playing Halo, are getting their very own video game-inspired foam blasters.
Three different Nerf blasters modeled after Halo weapons are coming to stores this year, timed to coincide with the holiday release of Halo: Infinite, itself a launch title for the Xbox Series X.
The MA40 assault rifle is one of the most well-known guns in the game, and its Nerf facsimile does not disappoint. The motorized blaster comes with a ten-dart clip that automatically feeds darts into the chamber and, while it's not automatic like the virtual weapon, it does come with a code that allows you to use its color scheme in Infinite.
As part of the Nerf MicroShots system, the other Halo blasters aren't nearly as powerful as the MA40, but they will scratch that nostalgic itch, and they're also a fraction of the price.
The SPNKr holds two darts, fires one at a time, and is modeled after the double-barrel rocket launcher of the games. And if you haven't thought about the Needler since the Bush administration, you'll be glad to know that there will also be a Nerf blaster version of maybe the most popular gun in the game.
Alas, this trio of weapons won't hit stores until fall. But don't worry: If you find yourself in need of a new Nerf gun between now and then, there are plenty of great options out there.
Every product on Fatherly is independently selected by our editors, writers, and experts. If you click a link on our site and buy something, we may earn an affiliate commission.
This article was originally published on