The Navy Is Letting Sailors Grow Their Hair. Let's All Be Pirates Now.
Social distancing is incompatible with haircuts, so Sailors are going to look a little shaggier.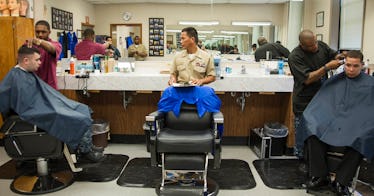 U.S. Navy photo by Mass Communication Specialist 2nd Class Justin Wolpert via Navy.mil
There are lots of things you can do in the navy: sail the seven seas, put your mind at ease, make a stand, protect the motherland, join your fellow man, et cetera. And now, Navy men and women can do something they've never done before: grow out their hair.
Last night, the Navy authorized commanding officers to "temporarily relax grooming standards for men's and women's hair length" if they deem it necessary to maintain proper social distancing to limit the spread of the novel coronavirus.
"Commanding officers may allow for additional hair length and bulk on the sides, top, and back of the head," Vice Adm. John B. Nowell, the chief of naval personnel, said in the message.
The change is an effort to minimize the direct barber-sailor contact necessitated by a haircut. Allowing longer hair means fewer haircuts means fewer opportunities for the virus to spread.
Barbershops also tend to be places of congregation, adding to the risk. Commanding officers can choose to close Navy Exchange Barber and Beauty Shops, and if they remain open the number of simultaneous customers will be limited to make sure there's room to maintain safe social distance.
Until now, Navy guidelines mandated that men's hair had to be four inches or less, not touch the ears or collar, and not extend past the eyebrows. Women's hair could not fall below the lower edge of the back of their collar.
Alas, Sailors are still not allowed to grow any kind of facial hair, as the assumption is that they can shave their own face without the assistance of a barber. So while they might look a little shaggier than normal, the full Jack Sparrow look won't be coming to your local aircraft carrier anytime soon.
This article was originally published on