$1.7 Billion More in Student Loans Was Just Forgiven — Do You Qualify?
66,000 borrowers just had their debt forgiven. Are you one of them?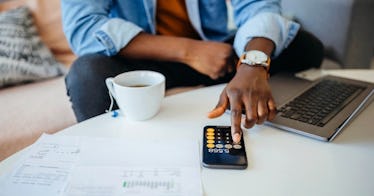 Pekic / Getty Images
Navient, a student loan servicing giant, just reached a settlement with 39 states to forgive $1.7 billion in unpaid student loan debt. The deal comes after claims that the company engaged in predatory lending practices that left borrowers up the creek when it came to the ability to repay.
For some 66,000 borrowers in most of the states across the country, the settlement signals a welcome reprieve from student loan debt payment that has dug many Millennials into a hole they may never be able to financially climb out of. But unfortunately, there are strict stipulations as to who qualifies for the forgiveness program. Here's what to know.
Who Qualifies for Forgiveness?
The deal requires Navient to cancel debt for 66,000 borrowers and totals around $1.7 billion. The company will also pay $95 million in restitution. The loans were primarily for tuition to for-profit schools like ITT Tech and DeVry University. These schools have notoriously low graduation rates and poor to non-existent job placement for grads.
The debts slated for forgiveness are past-due loans from 2002 and up. People who have kept their payments current are not eligible for forgiveness.To qualify, borrowers must be from either the District of Columbia or one of the 38 states involved in the lawsuit:: Arizona, Arkansas, California, Colorado, Connecticut, Delaware, District of Columbia, Florida, Georgia, Hawaii, Iowa, Illinois, Indiana, Kansas, Kentucky, Louisiana, Maine, Maryland, Massachusetts, Michigan, Minnesota, Missouri, Nebraska, Nevada, New Jersey, New Mexico, New York, North Carolina, Ohio, Oregon, Pennsylvania, Rhode Island, South Carolina, Tennessee, Vermont, Virginia, Washington, West Virginia, and Wisconsin.
Is More Student Loan Debt Forgiveness on the Horizon?
President Biden campaigned heavily on the promise of student loan forgiveness, but his administration has yet to live up to its promise of $10,000 cancelation for every borrower with federal student loan debt. Debt has been canceled for specific groups—borrowers with disabilities and those who qualify for
the PSLF program—but other student loan debt doesn't appear to be going anywhere anytime soon.When asked how the administration planned to handle their so far-unrealized campaign promise, Vice President Harris gave a cryptic non-answer. "Well, I think that we have to continue to do what we're doing and figure out how we can creatively relieve the pressure that students are feeling because of their student loan debt," she said.And with the moratorium on student loan payments ending in May, people across the country are hoping the administration comes up with a creative solution that actually works and doesn't just put a bandaid over the budgetary hemorrhage of student loan debt.
Why Student Loan Forgiveness Matters
While a particular segment of the population claims that those seeking debt forgiveness are just looking for a handout, there is sound fiscal evidence that canceling crippling student debt would be a boon for the economy.According to a recent analysis by The Roosevelt Institute, the moratorium on student loan payments boosted the economy in a significant way. The
think tank estimates that $173.83 billion would be added to the U.S. GDP in just the first year of complete student loan debt cancelation. Parents would have more liquid cash for necessities like child care. Consumer spending would also increase, meaning more tax revenue for state and local governments, potentially meaning more funds available for infrastructure and education improvements.
This article was originally published on