Study Shows Exposing Kids to Nature Is a Major Boost to Their Mental Health
Daily exposure to "green" and "blue" spaces does a body good.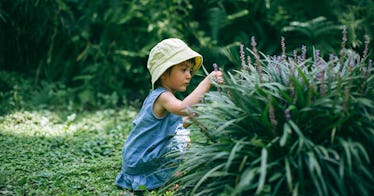 We've always known that playing outside is good for our kids. But a new study says that when kids play in nature, they get a major boost in their mental health, too. Here's what parents need to know.
According to CNN, a new study published in Nature Sustainability, proves that carving out time for our kids to play in the trees and woodland areas makes a big difference in their happiness. Researchers studied 3,568 kids between the ages of 9 and 15 across 31 schools in London. Over four years, researchers set out to see if there's a connection in their overall well-being, including mental health and cognitive development when they spend time in nature.
Researchers took note of the kids' daily exposure to "green space," including meadows, parks, and woods. They also calculated time spent in "blue space," which includes the sea, lakes, and rivers, mostly focusing on access to both spaces within a certain distance to the kids' homes and schools.
During the study, researchers measured kids' cognitive development through a series of memory-based tasks. They also kept note of any behavioral and emotional problems, adjusting for other variables that may impact the results like the type of school, air pollution, age, gender, ethnicity, and parental occupation.
After combining all the data, the researchers said that kids with a "higher daily exposure to woodland were associated with higher scores for cognitive development." Not only that, but kids had a 17 percent "lower risk of emotional and behavioral problems two years later."
The numbers also show that when kids have exposure to green spaces, they have a larger benefit to cognitive development. The same association isn't seen in kids with exposure to blue spaces. However, the researchers noted that the sample of kids involved in the study have less access to blue spaces than green, which may have some play in the numbers.
While the numbers show a sizeable difference in kids' health when they have access to nature, the lead author of the study, Mikaël Maes, notes that it's not yet known why this is the case.
"Currently, the mechanisms why humans receive mental health or cognition benefits from nature exposure is unknown. Scientific research on the role of the human senses is key to establish a causal link," Maes, a Ph.D. researcher at University College London's School of Geography, Biosciences and Imperial College London School of Public Health, said, according to CNN.
Even though we don't know why there's a connection between access to nature and happier kids, this study is in line with several earlier ones that point to the same thing. Time to plan a hike with the kids, maybe.