How to Watch the NASA Live Stream of the Solar Eclipse
The live stream of the total solar eclipse in South America this morning will be streamable across planet Earth.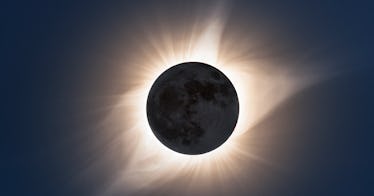 Getty
Dedicated stargazers might have
watched the Geminid Meteor shower last night, which peaked in the early morning hours between December 13th and Monday, December 14th. But if you missed it — and who can blame you, as you were likely sleeping — luckily, in just a few short hours (the late morning of December 14th) you'll be able to catch another spectacular event in the sky — no matter where you are on Earth.South Americans will be treated to a front-row seat for the last total solar eclipse of the year in just a few short hours. In a total solar eclipse, the moon will totally block the sun, except for the most outer rim of the dazzling massive star, which creates what looks like a ring of light. The eclipse will appear the most total in Chile and Argentina and should last over two minutes.For basically every other continent and country on the planet, totality won't be able to be seen by the naked eye. But luckily, that's where NASA, the good people who fly to space, will come in handy. They're going to broadcast a live stream starting at 9:40 a.m. ET today, Monday, in English and at 10:30 a.m. ET they'll broadcast it again in Spanish. Right now, the NASA folks are talking about the eclipse head of the live stream of the special event and taking questions from a live audience (if you want to tune in with your kids). But make sure you tune in by 9:40 to see the total eclipse — even if you won't be able to see it for some time.
This article was originally published on