Kid Goes Viral With Perfect Napoleon Dynamite Dance
This 9-year-old crushed his talent show!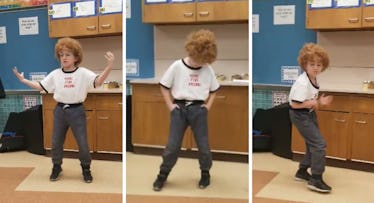 Credit: Facebook / Katie Gagner
The early 2000s was a great time for movies, and it's hard to think of a more quotable movie than Napoleon Dynamite. It was the underdog movie featuring a cast of unassuming characters. It was full of awkward one-liners and who could forget the talent show dance? One 9-year-old boy channeled the moves of Napoleon in his own school talent show and his rendition is perfect.
Jude Gagner is only 9 years old, but he's already internet famous thanks to his mom sharing his dance moves and likeness to Napoleon Dynamite. Jude's mom, Katie, watched her son perform at his school talent show, and like many proud mamas, she shared the video to Facebook.
According to mom, Jude loves the movie, and he watches it together with his dad. Jude learned the dance moves all on his own and surprised his parents at his school. "Jude actually learned [the dance] from watching YouTube videos," Katie tells POPSUGAR.
"He taught it to himself and surprised us when he asked if he could sign up for his school talent show. He showed us before he performed it for his classmates. Jude is a very talented kid and loves making people smile!"
Jude nails each bit of the choreography and social media is eating it up, too. The video has gone viral status, hitting over 2.8 million views since it was uploaded last week. Jude loves to dance, and the world is better thanks to his passion.
This article was originally published on