Naomi Osaka's Brave Open Letter About Mental Health is a Must-Read
"Michael Phelps told me that by speaking up I may have saved a life. If that's true, then it was all worth it."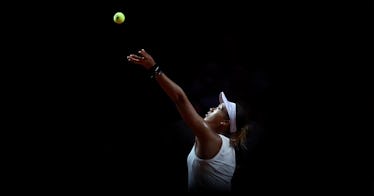 GETTY
Naomi Osaka addressed her withdrawal from the French Open in an open letter, writing about the importance of caring for her mental health and acknowledging the public scrutiny she has faced over her decision.
At the end of May, French Open organizers threatened to expel Osaka from the tournament because she wasn't honoring her media commitments by attending press conferences. Osaka then withdrew from the tournament and announced on social media that she would be taking "some time away from the court."
As a professional athlete, she also addressed the backlash she got from the press after her somewhat controversial decision to refuse to do press conferences. "I have always enjoyed an amazing relationship with the media… however, in my opinion… the press-conference format itself is out of date and in great need of a refresh. The intention [of bringing up the press conference format] was never to inspire revolt, but rather to look critically at our workplace and ask if we can do better."
She noted that it would be a not-terrible idea to give athletes the right to take a break from "media scrutiny" without being punished for doing so: "In any other line of work, you would be forgiven for taking a personal day here and there, so long as it's not habitual. You wouldn't have to divulge your most personal symptoms to your employer; there would likely be HR measures protecting at least some level of privacy."
Instead, she was subjected to levels of scrutiny and a need to disclose what was going on with her personally in order to be taken seriously.
Now, the 23-year-old is sharing her mental health struggles and the difficulty of having to exist in the public spotlight. Osaka also explained how her own experience has caused her to see how everyone is affected by mental health.
"It has become apparent to me that literally everyone either suffers from issues related to their mental health or knows someone who does…," Osaka wrote for Time Magazine. "I think we can almost universally agree that each of us is a human being and subject to feelings and emotions."
In the open letter, Osaka touched on the importance of acknowledging when you are struggling and the importance of asking for help. She said that despite feeling "uncomfortable being the spokesperson or face of athlete mental health," she hopes that her honesty and openness encourage others to be honest about their mental health as well.
"I do hope that people can relate and understand it's O.K. to not be O.K., and it's O.K. to talk about it…" She wrote. "Michael Phelps told me that by speaking up I may have saved a life. If that's true, then it was all worth it."
Osaka also spoke about her absence on the tennis court, as she confirmed that she will be playing at the Olympics in Tokyo and said that "the opportunity to play in front of the Japanese fans is a dream come true."
This article was originally published on