Naomi Osaka And Cordae's Baby Girl's Name Has A Sweet Meaning
Tennis champion Naomi Osaka has officially added "mom" to her long list of impressive titles.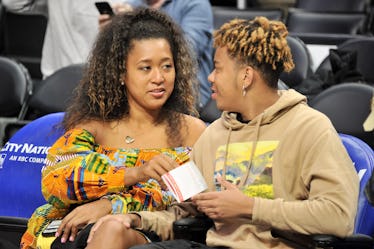 Allen Berezovsky/Getty Images Entertainment/Getty Images
Naomi Osaka has officially added "mom" to her long list of impressive titles. The four-time Grand Slam champion welcomed her first baby, a little girl, with her boyfriend, Cordae. And the proud parents gave their little girl a unique and beautiful name.
On July 11, a source confirmed to People that Osaka welcomed a daughter in Los Angeles, and that she and her little one "are doing well." At the time, there weren't many details released on the baby's exact birthdate or any photos available.
However, the following day, Cordae shared his new baby's name during a performance at the Calgary Stampede in Alberta, Canada.
"My daughter Shai was just born a couple days ago," Cordae told the audience. "So I dedicate this performance to my baby girl Shai. Love you, I'm going back home."
An audience member at the concert captured the moment from the proud father and shared it on Twitter, and people gushed over the unique name the couple gave to their little one.
According to Nameberry, Shai is a unisex name. "Shai is a name newly used in the US for both boys and, slightly less often, girls," the baby name website explained. The name hasn't been seen in the top 1,000 most popular baby names in the United States since the year 1900, so it's rare.
The name is Hebrew and translates to mean "gift," Nameberry explains, which is very fitting.
"Though the correct pronunciation is 'shy,' many will say shay, which might be all right with you," the site adds.
Earlier this year, Osaka shared that she wanted to have a unique name for her little girl. "We have been discussing names," she admitted at the time. "I would say that we are going for something more unique than traditional."
Osaka announced she was pregnant in January, sharing several photos and a message to her fans about how much she's looking forward to the changes to come.
"I know that I have so much to look forward to in the future, one thing I'm looking forward to is for my kid to watch one of my matches and tell someone, 'that's my mom,' haha,'" she wrote.
Congrats to Naomi and Cordae!