Instagram-Famous 10-Year-Old Drummer Is Writing A Song With Dave Grohl
She's gone viral many times — and most recently made headlines after she challenged Dave Grohl to a drum battle. Yeah, she's that good.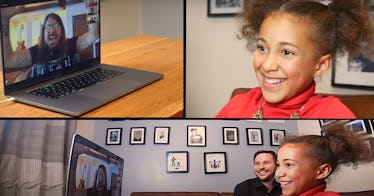 Dave Grohl has proven once again that he is one of the nicest musicians of all time — by burying the hatchet with his 10-year-old nemesis, Nandi Bushell, by asking her to write a song with him.
Bushell, the 10-year-old drummer and multi-instrumentalist wunderkind who has charmed the hearts of the internet time and time again (especially with her kick-ass Nirvana cover video) with her multi-faceted, prodigy-level talent on the drums and the other several instruments she's adept at playing, has once again linked up with Dave Grohl — but this time, it's to continue to bury the hatchet after Bushell absolutely crushed Grohl in a drum battle in early September of this year (in our mind, Bushell won.) Their history has been long and storied — Grohl even wrote her a song when he begrudgingly accepted her as a nemesis-super-fan-combo-figure called "NANDI."
Well, now, in an attempt to solidify their future relationship as working musicians slash rivals slash future best friends, Grohl has invited her to co-write a song with the Foo Fighters and even perform it with them on stage the next time they perform in the United Kingdom — whenever that may be, as COVID has wrecked all of our plans for the foreseeable future, including that of touring musicians.
"Hi Nandi!" he says, in the first time they've ever talked face to face (though over video.) Grohl asks Nandi if she gives lessons. "Maybe," she responds. "I might need to hire you for some lessons," he adds because his day job as a guitarist and singer for the Foo Fighters keeps him away from the drums. He calls Nandi his kids hero.
"When we come back to the UK, do you think you want to get on stage and jam with us?" He asks. When she says yes, he adds, "It has to be at the end of the set because you're going to steal the show. It can't be at the beginning of the set — because it's all downhill from there." Then he asks her if she wants to write a song with the Foo Fighters. "Yes!" she says. "I'm not playing drums, I'll tell you that," he says, and she volunteers to take over the percussion and bass. We have to say, we're really excited to hear the song.
This article was originally published on