Yikes! Apparently, 1 in 5 Men Want to Get a Mullet
The party in the back that no one asked for.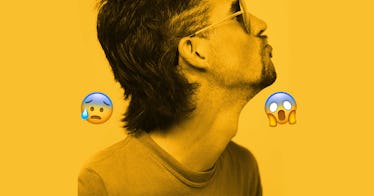 There are some trends in beauty and fashion that we'll never be able to wrap our heads around. The whole Canadian tuxedo thing was strange. Those bucket hats everyone wanted in middle school were confusing. And, of course, there's the mullet. The hairstyle is synonymous with the '80, and it had a moment in the spotlight for way too long, or at least that's what we thought. It turns out that in 2021, 1 in 5 men want the mullet to come back into style.
Thanks to a survey of 2,000 men conducted by OnePoll on behalf of Sports Clips Haircuts, we learn that 20 percent of people polled said if they could bring one popular hairstyle back from decades past, it would be classic business-in-the-front party-in-the-back style.
The respondents admitted that not everyone can pull off the mullet look and make it look cool. However, the other hair trends they'd like to see brought back may be more universally flattering. Fifteen percent of people polled said they would bring back the "curtain bangs" from the '90s, and 10 percent would like to see the return of the 2010s undercut look.
We're legitimately confused on why anyone would want the mullet to return. However, given the pandemic and the fact that many of us have been working from home and haven't seen anyone outside of Zoom calls, there's never been a better time to play with our looks.
During the COVID shutdown, 75 percent of men said they didn't use professional services for their hair. And instead, one in four men tried to cut their own hair ending with 55 percent saying they didn't do a good job on their at-home makeover. Which, tbh, makes us wonder if the men gave themselves an accidental mullet and decided to rock it?
Either way, we could all use a good post-pandemic makeover and, as it turns out, one-third of men feel "smarter" after getting a new hair look and are 12 percent reported feeling more inspired to ask for a raise after a fresh new haircut.
So, if a mullet gives you the confidence to take on the world again after lockdown, we say go for it.