'Mulan' Reviews: The Critics Think It's Worth Your Time
Even for kids younger than its PG-13 rating suggests.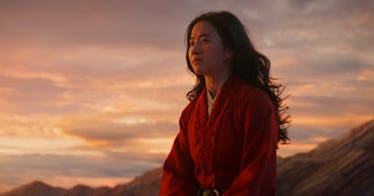 Disney
With a Disney+ subscription and an extra $30, you can finally watch Mulan. The live-action remake of the animated Disney film is officially streaming today, 23 weeks after it was supposed to screen in theaters.
But just because you can watch Mulan doesn't mean you should. The film's $30 price tag might give some pause, particularly as the economic uncertainty of the pandemic has tightened budgets. And then there's the PG-13 rating, which will make parents, particularly those with younger kids, question whether it's appropriate for family viewing.
But, early reviews of the film are touching on both of these sticking points. And, it seems like the critics think this movie is worth your time and money. Not only that, but it's more family-friendly than you might assume.
First, on the subject of the film's family-friendliness, Brian Truitt of USA Today writes that despite being "one of the best remakes of the Disney catalog" the more mature film, sans talking dragons and show tunes, is "maybe not for all little ones." If you have really young kids, in other words, stick with the animated original.
In the Minneapolis Star-Tribune, Neal Justin says the film is great "if someone in your household could use a jolt of girl power right about now." And as for the violence, the "fight scenes are rough, but never bloody. Youngsters should be able to get through them without suffering nightmares for the next century."
The consensus isn't crystal clear, but it seems a safe bet that while this Mulan isn't aimed at quite as young of an audience as its progenitor, kids don't have to be 13 to enjoy this PG-13 fare.
As for the second question of whether Mulan is good enough to justify its price tag, the consensus is even clearer: yes.
Writing for RogerEbert.com, Christy Lemire says that the film "couldn't be more relevant, vital, and alive…It's steeped in traditional cultural locales and details, yet feels bracingly modern with the help of dazzling special effects and innovative action sequences."
Manohla Dargis of the New York Times writes that "stories about women bravely going against the cultural and social grain can be delectable catnip and it's no different here." In her view, director Niki Caro, with a few hiccups, ably preserves the appeal of the basic story in everything from the visual style of the film to the acting performances.
And speaking of performances, many reviews celebrated both the job done by the film's lead, Yifei Liu, and the impressive complement of supporting players. Many singled out Gong Li's performance as Xianniang, a shape-shifting witch who, according to Mick LaSalle in the San Francisco Chronicle, we eventually come to see as "akin to Mulan, as a woman whose gifts were unwanted and whose power was denied." All in all, it's a more nuanced portrait of a villain that you'd expect from a Disney film.
So there you have it. Mulan is a well-acted, visually captivating film that's well worth your time and tamer for more kids than its PG-13 rating suggests. But if you're still hesitant to spend the extra cash with so many other streaming options, you might not have to wait that long to watch it without the extra charge.
Mulan is streaming now on Disney+. (As long as you pay an extra $29.99)
This article was originally published on