Mom Charged With Homicide For Failing to Secure Daughter's Car Seat in Fatal Crash
The mother was not driving during the crash but the police say she was "was the person responsible for the buckling of the car seat."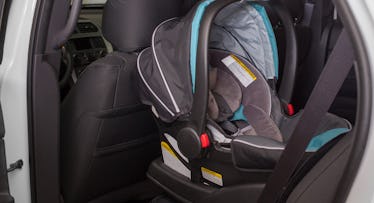 A mom from Baton Rouge is facing homicide charges after her one-year-old daughter, Seyaira, died in a car crash because her car seat was not properly fastened. Brittany Stephens, the 20-year-old mother of Seyaira, was not driving when the crash occurred but according to police spokesman Sgt. L'Jean McKneely she was still arrested for one count of negligent homicide because she "was the person responsible for the buckling of the car seat."
The tragic case is sure to attract controversy, as the crash was caused by an off-duty cop plowing into the car containing Brittany and Seyaira while reportedly driving at 94 mph. According to Baton Rouge police, a blood test found that Manuel was not impaired at the time of the crash. Brittany and her daughter were among four adults and four children traveling in a five-seat Nissan SUV when the gruesome crash occurred. Nobody in the car was reportedly wearing a seat belt and the driver and the other two adults in the car were also cited for seat-belt violations. Police spokesman Sgt. Don Coppola Jr. told the Advocate that the car seat was "on top of the center console, wedged between the front passenger seat and the driver's seat."
Christopher Manuel, the off-duty officer responsible for the accident, was arrested for negligent homicide but after discovering that Seyaira's car seat was not secured and the straps were not adjusted correctly according to her height, police decided to arrest Brittany as well. Online prison records show that Brittany had posted $3,600 bond on Wednesday morning and had been released from jail.
On Tuesday, East Baton Rouge District Attorney Hillar Moore III said his office hasn't determined whether Stephens or Manuel will end up facing charges, but promised that prosecutors "will review all reports, charges, and arrests and make the appropriate decisions based upon facts and law."
While parents can legally be charged with homicide if they are found to have failed to fasten their child's seat belt or car seat properly, it is a rare occurrence. In 1990, Florida prosecutors attempted to have Ramiro de Jesus Rodriguez convicted of homicide after his three-year-old daughter died in a car crash where she was not wearing a seatbelt but the case was ultimately dismissed. If Brittany Stephens is convicted, it will be one the first prosecutions of a parent for failing to use a seatbelt or car seat for a child who died in a car accident.
This article was originally published on