This Map Will Tell You The Most Popular Christmas Movie In Your State
Die Hard *is* a Christmas movie – at least in three states.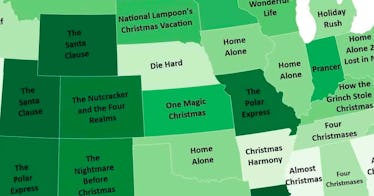 Comparitech
As the workweek settles down for many people, families are gearing up for their holiday traditions. For many families, this means cuddling up on the couch near the Christmas tree with a cup of candy cane hot chocolate in hand and watching our favorite holiday movie. When we need as much normalcy as possible this year, re-watching our favorite Christmas movie should be on the week's to-do list. And we've got the most popular Christmas movies by state to help out with the movie selection.
There is something wholesome and heartwarming about turning on a Christmas movie that just makes this time of year feel better. These movies always have the right amount of drama or conflict to keep us interested, but they always wrap up in a perfect bow.
While we can likely all agree that Christmas movies during this time of year are a great way to spend our time, deciding which movie to watch is a little more challenging to answer. Consumer site Comparitech set out to help answer this question and compiled data to uncover the most popular Christmas movie in every state.
Using data collected from IMDb and Google Trends, the site sifted through the top 50 films on IMDb's list of Christmas movies and then looked at that information compared to Google Trends. They found out which of the top movies scored the highest in each state.
"If any state came up twice, we used the film that ranked higher on Google Trends," the site reported. "If a state didn't appear top for any of the movies, we searched through all of the 50 films to see which was most popular in the state according to Google Trends."
The results? An interesting mix of movies and one movie that reigns supreme. According to the data collected, Home Alone was the most popular, with nine states choosing this as the favorite. Several classics made the list, like the 1945 movie Christmas in Connecticut (most favorite in Connecticut), the 1946 movie It's a Wonderful Life taking the top spot in Maine, and the 1947 version of Miracle on 34th Street is Delaware's favorite.
A few surprises included the Elf only hitting the top in one state (Idaho) and Die Hard, the much-debated on whether it's a holiday movie or not, was named number one in three different states (Alaska, Nebraska, and Washington).
It seems like checking out this top list is a good place to start building up your holiday watch queue, starting with the top one in your state to see if you agree that it should reign supreme.
To check out the full data by state, check out Comparitech.