The 10 Most Overpriced Housing Markets Are Not Where You'd Expect
According to a new study, the housing market is overpriced across the country, with some listings reaching more than 40% above their historical values.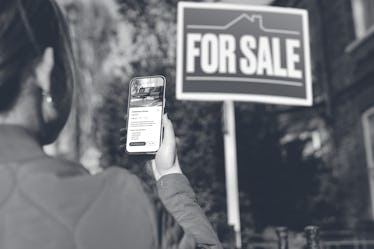 Oscar Wong/Moment/Getty Images
It's no secret that housing costs are absolutely out of control. But just how out of control are they? For folks who are starting to look for a new house — or their first — it just might seem like the cost of buying a new home is more unaffordable than ever. And a new study on the U.S. housing market has found that markets are overpriced nationwide — with some filled with homes that regularly are sold for more than 40% above their historical values. And those housing markets might not be where you expect them.
Florida Atlantic University researchers Ken H. Johnson, Ph.D. and Eli Beracha, Ph.D., analyzed the most overpriced housing markets across the country, using open-source data from Zillow and other providers "to score the top 100 most overpriced or underpriced metropolitan cities in the U.S."
Their research found that of the top 10 cities where people are overpaying for their homes, half of them are located in Florida.
That might be surprising to some — especially those who look at homes in New York, California, or other desirable, tight-housing markets. But indeed, Florida homes are growing in value — due to high demand and low housing stock. So although you won't see Manhattan or San Francisco on the list, you will see Lakeland, Tampa, and Cape Coral.
"Florida is so overvalued almost certainly because of the increased demand to live here, combined with a shortage of available housing units," Johnson explained. "There are just not enough roofs to go around, given our population and Florida's stature as a prime destination."
According to Insider, the problems are compounding, as well. Homeowners are obviously reluctant to sell because they don't want to take on a higher interest rate when they purchase a new home — with interest rates topping 6% at the moment — combined with high prices and high mortgage rates, which kept the housing market tight in 2023.
The 10 Most Overpriced U.S. Housing Markets, Ranked
Atlanta, Georgia: overpriced by 48.57%
Detroit, Michigan: overpriced by 45.80%
Tampa, Florida: overpriced by 43.98%
North Port, Florida: overpriced by 43.49%
Cape Coral, Florida: overpriced by 43.35%
Memphis, Tennessee: overpriced by 43.35%
Lakeland, Florida: overpriced by 42.36%
Charlotte, North Carolina: overpriced by 42.19%
Palm Bay, Florida: overpriced by 41.00%
Winston, North Carolina: overpriced by 40.96%
To see the full dataset, visit Florida Atlantic University's website.