Most Americans Don't Agree With LGBTQ+ Discussion Bans in Schools, Survey Says
Even the mere mention of LGBTQ+ issues and people could soon become illegal in many schools. Most Americans don't want it to.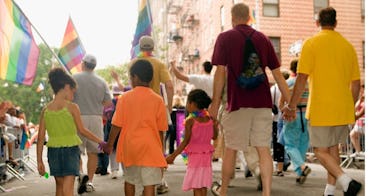 Glow Images / Getty Images
According to a recent poll, the majority of Americans oppose legislation that would ban elementary schools from covering topics of sexual orientation and gender identity.
The poll comes on the heels of the controversial Florida legislation, the Parental Rights in Education bill, or as it is commonly known, the "Don't Say Gay" bill, which states that lessons about sexual orientation or gender identity "may not occur in kindergarten through grade 3 or in a manner that is not age-appropriate or developmentally appropriate for students in accordance with state standards."
The bill would also allow parents to sue school districts if they felt their children had been exposed to topics of sexual orientation and gender identity.
The bill passed through the Florida legislature, and Governor Ron DeSantis has given every indication that he will sign it into law, despite significant pushback from LGBTQ+ advocates and allies as well as condemnation from the White House.
The poll, conducted by ABC News and Ipsos, found that 62% of Americans would oppose legislation like the recent controversial Florida legislation. 37% would support limiting what educators can teach in public schools. Although the results were skewed down party lines it's not so cut and dry — 39% of those who identified as Republicans oppose such legislation along with 80% of Democrats and 65% of Independents.
President Joe Biden voiced support for LGBTQ+ youth on Twitter after the bill started gaining steam in the Florida legislature back in February. "I want every member of the LGBTQI+ community — especially the kids who will be impacted by this hateful bill — to know that you are loved and accepted just as you are. I have your back, and my Administration will continue to fight for the protections and safety you deserve," wrote the President.
Opponents of the bill say it would be a disaster for the mental health of LGBTQ+ youth, who are already struggling. According to advocacy group The Trevor Project, 42% of LGBTQ+ youth have seriously considered suicide in the last year. The group also found that LGBTQ+ teens who were taught about civil and gay rights leaders in school were 23% less likely to attempt suicide. They also found that straight and cisgender teens who learned about those role models were more accepting and were less likely to bully LGBTQ+ peers.
U.S. Secretary of Education Miguel Cardona also condemned the bill. "…Leaders in Florida are prioritizing hateful bills that hurt some of the students most in need," he said in a statement. "The Department of Education has made clear that all schools receiving federal funding must follow federal civil rights law, including Title IX's protections against discrimination based on sexual orientation and gender identity. We stand with our LGBTQ+ students in Florida and across the country, and urge Florida leaders to make sure all their students are protected and supported."
If Governor DeSantis signs the bill into law, it could take effect as early as July 1st.
This article was originally published on