Post-COVID Foreclosures Are Coming For 2 Million Families
Money set aside from the federal government to help homeowners is largely still sitting in government coffers.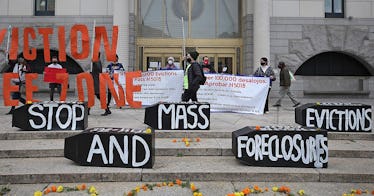 GETTY
Some 2 million homeowners are currently in mortgage forbearance across the United States, and the foreclosure ban program that was designed to protect them during the COVID-19 pandemic, a federal moratorium on foreclosures, expired on Saturday, July 31.
What happens to them next — despite the fact that there are $10 billion dollars of federal money allocated to helping people pay their mortgages that haven't gone out — could be foreclosure, access to limited aid, or, in a best-case displacement scenario, home-owners being forced to sell their homes.
The pandemic program allowed homeowners, many of whom lost work during COVID-19 or the ability to pay down their mortgage and who also have federally backed mortgages, to defer their monthly mortgage payments for the duration of the pandemic.
In early July, the U.S. government and the Consumer Finance Protection Bureau prolonged the foreclosure moratorium through the end of the month, but declined to continue the moratorium after that point.
The CFPB did, however, also institute a program that does protect some homeowners from immediate foreclosure if they follow certain steps including submitting applications to the government bureau, but it doesn't go into effect until August 31, 2021, meaning that homeowners in the meantime could be in serious trouble.
A major part of the problem is that the $10 billion of federal assistance to homeowners struggling to pay off debt, their mortgage, or who are in forbearance has not made it to the pockets of said homeowners.
Apparently, per The Washington Post, the program "is moving so slowly that protections are expiring before states have figured out how to distribute the money."
If that sounds like a familiar tune, it's because it is — renters across the country, who were granted over $46 billion in federal funds in rental assistance while the eviction moratorium was in place, have only received an infinitesimally small percentage of that funding and face eviction as the moratorium ends.
In other words, money that is supposed to help people avoid foreclosure, or eviction, or both, isn't making its way to the people who actually need it.
There is some help on the way for people who exit forbearance — a new federal rule will allow some borrowers to reduce their monthly principal and interest payments by up to 25 percent or defer their debt to an interest-free loan at the end of their mortgage — and some people can sell their houses to avoid being foreclosed on if they've paid down enough for their mortgage and have little enough debt to have enough equity in their home to sell.
That, plus the new CFPB program that helps homeowners stay put as they work through their forbearance options, means that there are some options for homeowners. But it's hard to see how, barring the $10 billion in federal funds very quickly making its way to the pockets of homeowners, there won't be a swell of foreclosures in the coming weeks.
In the meantime, people are still struggling financially. While most people who entered forbearance during the pandemic have exited, those who remain are those who are the most vulnerable. Many homeowners in forbearance don't have a job to pay their mortgage down, and others were using the forbearance period to pay for other necessities. Black and Hispanic borrowers make up a disproportionate number of homeowners on the cliff of foreclosure, as are low-income borrowers.
And meanwhile, $10 billion sits in the wings, only $900 million of which has actually been distributed to states and territories, waiting to make it to the pockets of people who need it most.
This article was originally published on