Monthly Stimulus Checks? 2 Million People Sign Petition Demanding Them
People want monthly stimulus checks. But will they happen?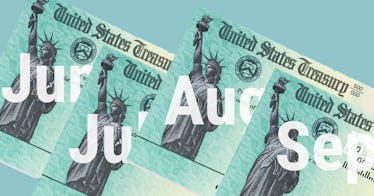 While a handful of U.S. senators have been calling for monthly, recurring stimulus payments for the length of the pandemic since COVID-19 reared its damaging, deadly and ugly head, the calls have so far gone nowhere.
The most that the American people have gotten in terms of direct, almost universal cash assistance were in the form of three separate stimulus checks: a $1,200, $600, and $1,400 check (the latter of which is still being mailed out).
While these payments — alongside some rental assistance, eviction moratoriums, expanded tax credits, and the soon-to-come child allowance that will hit parents accounts in July — have helped stabilize the economy, lessen hunger, helped people pay down debt, and increased American's savings, many advocates and experts have argued that the $2,600 Americans have received, at most, in total, for the pandemic is not enough.
And apparently, some 2 million people agree with them. Here's what to know about the petition — and if there has been any movement on recurring or even just a 4th stimulus check.
A Petition Is Blowing Up On the Issue
A petition asking the government to give $2,000 of monthly support to Americans as the pandemic continues was first published on Change.org in 2020, and since then, 2 million people have signed on, Business Insider reports.
Stephanie Bonin, a restaurant owner from Colorado, started the petition, saying, "I'm calling on Congress to support families with a $2,000 payment for adults and a $1,000 payment for kids immediately, and continuing regular checks for the duration of the crisis… Another single check won't solve our problems — people are just too far behind," Bonin wrote.
"…People need to know when the next check is coming," Bonin noted, referring to the fact that the pandemic relief checks have been far and few between, and that even now, no one knows if or how another, fourth stimulus check, will come to their bank accounts.
But Will It Happen?
Though 20 Democrats have signed an open letter to President Biden urging him to make recurring stimulus checks a thing, touting how many families it would lift out of poverty and just how much of a stimulus it would act to the economy, Biden has not directly commented on the proposal or even a proposal for a 4th stimulus check.
A 4th stimulus check alone, if passed, would lift 7 million people out of poverty — no small feat in one of the wealthiest countries in the world with such an objectively high rate of poverty or children. Biden could add it to one of his stimulus packages — either the American Jobs Plan or the American Families Plan — but so far has not committed either way on it.
Either way, the financial repercussions of the pandemic are still enormously felt by all Americans, and direct cash assistance would help. 2 million other people seem to agree.
This article was originally published on