Montana Is 7th State To Make Anti-Trans Sports Bill Law. But That's Not All
Montana has passed two bills that are harmful for children and young adults, broadly, in the state.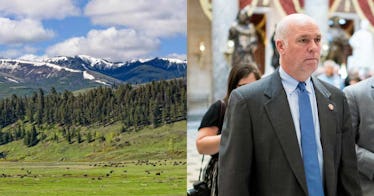 GETTY
On Friday, May 7th, Montana joined the ranks as the latest, and seventh, state to no longer allow transgender athletes to compete on the school sports teams that correspond to their gender identity. The governor also signed a bill that will end the automatic enrollment of kids in sex education in public schools.
House Bill 112, otherwise known as the "Save Women's Sports Act" was quietly signed by Montana Governor Greg Gianforte without comment, per The Advocate; the latest effort in a series of dozens of proposed laws that explicitly target the rights, and liberty, of LGBTQ+ youth.
Montana's Anti-Trans Bills, Explained
Montana's anti-trans sports bill was signed into law
The first bill, the "Save Women's Sports Act," bars transgender athletes from competing on school sports teams that correspond to their gender identity. It affects students at public schools, state colleges, universities, and private schools that play against those public schools.
The bill states that "athletic teams or spots designated for females, women, or girls may not be open to students of the male sex," (by which the bill clearly means transgender girls and women.)
The bill is part of a suite of nationwide efforts to harm trans kids: these range from legislation that makes gender-affirming health care a felony, would require girls to undergo genital checks to play sports, would call parents who raise children in correspondence to their gender identity child abusers, and would put their children in the care of Child Protective Services, and would revoke medical licenses of doctors who treat trans children.
We could wax poetic about how anti-scientific these bills are: they are predicated on the false, and debunked perception, that trans girls have an immediate and inherent advantage over cisgender girls (there has been no observable truth to this.)
It also ignores the fact that sex, much like gender, does not actually exist on a binary — and there is a wide variance in sex expression and chromosomal makeup for all people, many of whom may present clearly as one gender or another.
Pediatricians and child therapists and experts have begged state legislatures not to pass these laws that span from sports bans to cutting children off of gender-affirming health care, due to the fear that the legislation will harm children. At one state hearing, a doctor said that trans children had already shown up in the emergency room after attempting suicide well before a bill was even passed.
Nevertheless, it's a line in the sand for many conservatives, and children are the victims of the culture war.
And Montana functionally limited sex education access in schools
But it doesn't just stop at banning trans kids, and in particular, girls from sports: Governor Gianforte also signed a bill that will allow kids to skip sex education in public schools unless a parent specifically opts-in their kid for the course, making sex education less of a requirement and more of a suggestion. It will require schools to inform parents if the school intends to discuss anything about "human sexuality."
Evidence-based sex education can improve academic performance, prevent intimate partner violence, delay sexual contact, drive down unplanned pregnancy, drive down rates of youth sexually transmitted infections, and reduce health disparities for LGBTQ+ youth. The signing of the law, then, affects all youth in public schools.
What's Going On Around the Country?
Not every single bill has been successful — for example, North Carolina killed an anti-trans sports bill after they found that there had not been a single complaint lodged against trans children playing sports by athletes or anyone else. Others have failed to pick up support in the relevant committees, like a bill in Texas that would remove trans kids from the care of their parents if their parents acknowledged their gender identity.
But regardless of whether or not they pass (and many still have), what is at stake is the fact that state legislatures around the country are toying with, and garnering support for, limiting the rights of minors in a way that will negatively impact their mental, physical, emotional, and social health. And that is no small matter.
Many advocates have called 2021 the worst year in recent history for LGBTQ+ rights in the United States. It's no wonder why.
Will The Bills Stay Law?
The anti-trans sports bill apparently has a line item in it that states that if the federal government decides to withhold education funding from the state for passing the bill, the bill will immediately become legally void.
Or, President Biden could urge Congress to ditch the filibuster and pass the Equality Act, a long-overdue expansion of civil rights for Americans, and in particular LGBTQ+ people, and these bills would be struck down as well. But that hasn't happened yet.