Millions of Incredible Monarch Butterflies Are Coming. Here's How to See Them IRL
This is the best time of year to get your fill of butterfly magic.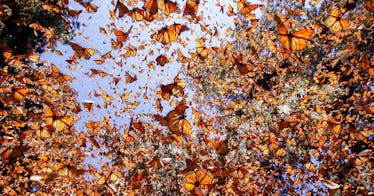 Sure, seeing a butterfly is cool. But you know what's really cool? Seeing a billion butterflies. And the best part is, you and your family could actually do this IRL. If you have a butterfly-obsessed kid or are just looking for an incredible reason to travel now that your kids are all vaccinated, you can make all of your butterfly dreams come true if you head to Mexico, where up to a billion of those majestic winged creatures end up every fall.
Each year, monarch butterflies that usually hang out in the United States and Canada fly south to avoid the cold and end up chilling in forests that are located about 60 miles outside of Mexico City. To protect and preserve them, the area has been designated a UNESCO World Heritage Site known as the Monarch Butterly Biosphere Reserve and you can totally go there to see a seemingly endless swarm of orange.
Much of the reserve is not accessible to the public in order to ensure the butterflies are able to enjoy their migration in peace but you can go to one of the designated sanctuaries that are overflowing with butterflies.
El Rosario is by far the most popular spot, as it receives a plethora of visitors every year. But you can also check out Sierra Chincua, Singuio, and Piedra Herrada in Estado de Mexico, plus El Capulín and La Mesa in Michoacán.
The butterflies reach the Monarch Butterfly Biosphere Reserve by early November and settle there until around March before heading back up north, so now really is the perfect time to make the trip and see them yourself.
If you do end up going, it's important to remember to respect the butterflies by behaving like a visitor rather than an intruder. That means staying on designated paths and not disturbing the habitat, along with not taking any flash photos. And if you're lucky enough to have one land on you, just let it hang out until it's ready to fly away.