Mom Who Gave Birth in the Hallway Is Going Viral Again
Over 2 years since the birth and the photos are still going viral.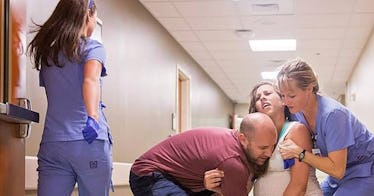 Birth is incredible and scary and life-changing, and unless you've been through it yourself or stood alongside your partner, it's hard to put the experience into words. Sometimes, photographs of the labor and delivery can give a glimpse into the whirlwind that birth is, and one photographer and mom went viral for the images of her birth. One mom gave birth in the hallway of the hospital, and her birth photographer was right beside her, and the images are incredible. She went viral the first time the images were shared with the world, and she's going viral again for one reason: the photos are really that good.
Jes Hogan, a mom from Kansas, first hit viral status after photos of her birth went viral. She went into labor with her sixth baby on July 24, 2017, and it came on faster than anticipated. Hogan made it to the hospital, but mom had no time to get into a room. Instead, she welcomed her first baby boy in the hallway of the emergency room. And her birth photographer was right there by her side, capturing the whole event, and the result was some insanely amazing photos.
Tammy Karin, owner of Little Leapling Photography in Manhattan, Kansas, arrived at the hospital and found the laboring mama barefoot in the hallway and birth was happening.
"I made it just past the second set of automatic doors …" the mom wrote in a post on Karin's blog. "Tammy yelled to them that I was going to have the baby right there on the floor. I know at this point I said something to the effect of, 'oh god, he's here.' I then started to take my pants off because I could feel my body pushing the baby's head out," she continues. Reading the birth story is different from seeing the photos, which are incredible.
"This powerful mama barely got through the ER doors before her son made his appearance," Karin shared along with the images on Facebook. And the photos went viral when she first shared the images on February 3, 2018. And they're going viral again.
Why? Because these images are powerful. It's hard to capture the strength of a laboring mom and the intensity of birth for everyone who is witnessing it.
"It was my craziest birth, but also, the most perfect," Hogan wrote. "It was not at all what I had planned, but it ended without any intervention, with a healthy baby, and amazing support people by our sides. It was beautiful, and I'll forever love every memory of it."
And the photos are amazing.
This article was originally published on