Watch Mom Slide Tackle Toddler Who Crashes Pro-Soccer Field
Her mom reflexes were on full display.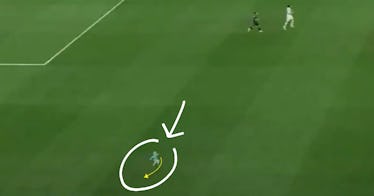 When a mischievous toddler managed to sneak onto the pitch during the FC Cincinnati vs. Orlando City SC match on Saturday, it was up to his mom to grab him and get him off the field as quickly as possible. And a video of her doing just that has gone viral in a major way.
Morgan Tucker was enjoying the game at TQL Stadium in Cincinnati when her two-year-old son Zaydek Carpenter did his best impression of an inebriated fan by running onto the field with uninhibited delight. Morgan was not far behind him, and to ensure that she got her son off the field, she pulled off a pro-level slide tackle (it actually may have been more of an accidental slip but it still looked pretty cool).
After her supermom reflexes helped defuse the situation, Morgan carried her son off of the pitch while Zaydek was giggling in blissful ignorance. The entire sequence happened so fast that Zaydek was on and off the field before any of the players could even realize what was happening. But, of course, the sequence was filmed and ended up online, where people instantly celebrated this toddler storming the field and his mom's quick save.
"I literally looked away for one second and saw he was under the fence and I was like, 'Oh my gosh.'" Morgan explained to Good Morning America. "I was so scared he was going to get hit in the head with a soccer ball."
Morgan said that the reason her son ran onto the field was that he would get sad any time the ball would go to the other side of the field. So when the opportunity presented itself, he made a mad dash with the hopes of getting an up-close view of the action. And it almost worked, if not for his mom's ability to beat him in a foot race.