Mom Shamed For Zombie Skittles Goes Viral— What Are Zombie Skittles?
A mom went viral after she shared that she had been giving her kids Zombie Skittles for a month. But what are they, and why was she shamed for it?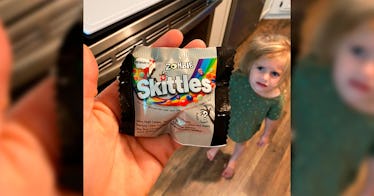 Emily Massingill/Facebook
Have you ever heard of Zombie Skittles? Well, if you're like me and you haven't, they're just like Skittles — except that instead of being all delicious, juicy, and fruity candy in little bags, there's at least one Skittle per bag that tastes like garbage. Obviously, when Halloween comes around, candy-makers try to bring out all of the most exciting and new candy inventions to delight little kids and to stock the shelves of grocery stores across the country.
Zombie Skittles are no exception, and they sort of make a great gag gift, because while for the most part, you'll eat a delicious bag of Skittles, every once in awhile, you'll taste a Skittle that what one mom Emily Massingill described as "54 dirty diapers in the garbage." Massingill didn't realize that Zombie Skittles are basically a practical joke candy (in tiny font at the bottom of the bag, there's a warning that says "Most taste delicious but some taste like rotten zombie, dare to try!") until a month after she was giving the fun-sized bags to her kids nearly every day.
"If you're feeling like a bad mom today, don't worry – I fed these skittles to my kids for a solid month not realizing there is one skittle in there that taste like rotting flesh or 54 dirty diapers in the garbage. They kept telling me they didn't like the skittles, and I told them either eat them or they wouldn't get any more candy ever again if they're gonna be ungrateful," she said, copping up to her hilarious mistake. Obviously, she didn't understand why her kids didn't like the Skittles, and it took her a little bit to figure out what had them so disgusted.
But even though the totally relatable parenting fail went viral, and most people responded with kindness, some decided to shame Massingill for not being, well, a perfect mom. Some accused her of feeding her kids candy daily and said that's really bad for them, others said they'd never "force their kids to do anything" and implied that she was a bad mom for doing so. But the funny mom clapped back in an edit on the photo. "It's Skittles not horseradish. Sit down, listen to yourself."