Mom Mocked on Reddit for Refusing to Pay Babysitter More Than $8 per Hour
"Our kids are very well behaved and will be sleeping most of the time anyway."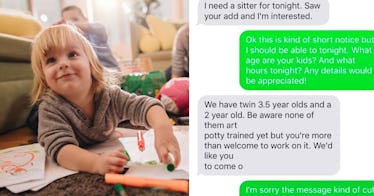 Babysitting is a tough gig. On top of being put in charge of kids, who famously do not love anyone being in charge of them, you also have to deal with unruly parents. And one mom recently showed just how unreasonable parents can be, as she got extremely upset at a babysitter who refused to be comically underpaid.
The mom initially tried to pay a babysitter $8 per hour for watching her three kids, none of who are potty-trained. When the sitter explained that her rate was $15, the mom was in disbelief.
"We've had several sitters in the past and never paid more than 8," the mom wrote via text. "I can do 60 for the night."
The babysitter said that she would not go below $15 per hour, which only upset the mom more.
"Our kids are very well-behaved and will be sleeping most of the time anyway," she wrote. "You'll barely have to do anything. I used to babysit for $10. Be gratef[ul]."
RELATED: The Best Babysitting Apps and Websites
Despite the condescension, the babysitter still took the high road, reminding the mom that none of the kids were potty-trained before wishing her luck on finding another babysitter.
Lucky for us, the babysitter shared the text conversation on Reddit, where it quickly went viral and, unsurprisingly, people mercilessly mocked the mom for being completely ridiculous with her demands.
"WHO wants to cheap out on a sitter for their children?!?!?" one user wrote. "The person who will be literally making sure they don't die while you're gone."
Many others agreed, noting that babysitters often get the short end of the financial stick.
"$15/hr is a steal!" another user wrote. "I nanny and babysit, and people like this are the most frustrating part about my job!! They don't respect what we do as 'real work' and therefore think we should work for whatever they graciously decide is fair."
Hard to disagree. So next time you're hiring a sitter to get a much-needed date night with your spouse, make sure you are paying them a fair amount or you may find yourself the subject of a viral round of Reddit ridicule.