Mom Goes Viral After She Drives Her Kids To School, But Forgets Kids
"I have to go back and pick them up."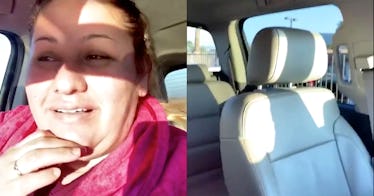 torrespriss/Twitter
There is a lot to juggle when you're a parent and trying not to drop any balls, forget things, or disappoint anyone can feel impossible. It's going to happen, likely more than once, but this one mom has gone viral for driving her kids to school but leaving her kids at home at the same time. Yes, she drove to school, completely forgetting her kids, and the video she shared once she realized her mistake has gone viral. Here's what went down.
"They're not in the car," a mom says on video showing the empty back seats of her vehicle. You can tell she's on the very verge of laughing, but it doesn't take long for her to completely bust a giggle. "I'm driving to school without my kids," she says while holding back that laugh. She lets out that giggle and says, "I'm taking the kids to school, and I don't even have them in the car."
Completely losing it and laughing at this point, because what else can you do but laugh at yourself, she says, "I have to go back and pick them up." Her laugh is the best thing about this video; it's hard not to smile and giggle along with her as she says, "I can't believe it. I left my kids…. at home."
The video has gone viral with over 1.8 million views. And it's worth every second of the 46-second video.
"I was supposed to take them to school, and I got in the car, and I left," she says before breaking into a full giggle laugh at how hilariously silly this mistake was. I can see the scenario at home, imagining what it would look like, if it's anything like our mornings here. Everyone was hurried and running late, frazzled nerves in the air and mom wanted to get everyone as close to on time as she could. I could see this happening for sure. But this mom's realization of it makes it so much funnier.
"I was half asleep this morning," she confesses. "Where are my kids?"
Hopefully, her day got better after that morning, and everyone eventually made it to class.
This article was originally published on