All-Girl Robotics Team 'Rescued Themselves,' Have Left Afghanistan
The Afghan Dreamers were credited for escaping Kabul through 'hard work and bravery,' and are now refugees in Qatar.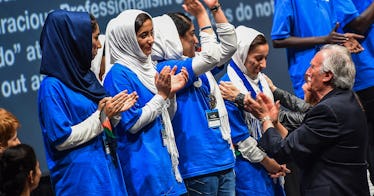 GETTY
The situation in Afghanistan remains dire, as the Taliban has seized power and the United States completes its withdrawal. Thousands of Afghanistan refugees are fleeing the country in hope of finding refuge elsewhere, including America, and one 60-year-old mother-of-11 from Oklahoma flew to Qatar in order to help an all-girl robotics team from Afghanistan escape the country safely.
Allyson Reneau met the team, known as The Afghan Dreamers, in 2019 at a Humans to Mars summit in Washington DC, telling Insider that she"felt immediately drawn to them" as a mother of nine daughters herself. They ended up keeping in touch over the last two years and as the situation worsened in Afghanistan, she became more worried.
The prominent group has traveled internationally and has won top awards in places like Canada for their robotics skills — as Afghanistan fell, human rights lawyers literally begged Canadian PM Justin Trudeau to bring the girls to the country.
After making little progress trying to reach out to her senator in the United States and local political officials, Reneau made the decision to fly to Qatar to reconnect with an old roommate who worked at the embassy there. After her friend helped her get the paperwork done, Reneau stayed in Qatar as the girls attempted to leave Kabul.
Nine members of the Afghan Dreamers made it to Qatar over the last several days, and The Washington Post reported that at least a dozen of the members were able to flee the country, though some of their whereabouts are unknown.
Those who went to Doha now can remain there or head elsewhere to continue their education. While Reneau's effort to help the nine girls is certainly admirable, a board member of the Digital Citizen Fund (DCF), the team's parent organization based in the United States, Elizabeth Schaeffer Brown told BBC that it's important to remember that these girls were not "rescued."
"The girls rescued themselves through all their hard work and bravery over the past several years," she added. "The flight out of Kabul was only the end of a journey in which safety was a concern."
Reneau said she "broke down" after hearing that the girls had made it safely out of Kabul and was happy that they "have the freedom to choose and to be the architects of their own destiny and their own future." According to Reneau, the girls have already received an "abundance of scholarship offers from incredible universities" since reaching Qatar.