Mom Faces Backlash for Asking Guests to Pay to Attend Son's Birthday Party
Parents were asked to give $80 and many of them weren't having it.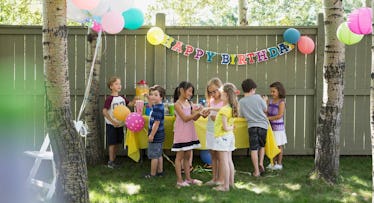 Getty
Every parent knows that throwing a birthday party for their kid is an expensive affair but some parents were shocked when mom asked them to pay more than $80 for their kids to attend her son's birthday party.
A mom, writing on the UK parenting forum Mumsnet, said that her kid was invited to a friend's go-karting birthday. At first, she was excited, as her son was new at school and hadn't made many friends. However, as the party approached, she was shocked to find that she was being asked to contribute more and more money to the party.
She said that the mom was asking other parents to pay $23 for go-karting, which is arguably a reasonable request. But she was also asking for $36 for the rest of the day and charging $23 for transportation. The confused mom said "the final straw" was when she was asked to provide food for her son's friend's birthday party.
"This morning she (in my opinion) has the gall to request we pack a generous picnic with ice packs and pack extra so the birthday boy doesn't have to bring anything," she wrote.
Unsurprisingly, the other parents on Mumsnet agreed that the mom throwing the party was way out of line asking other parents to pay almost $100 for their kids to attend a birthday, with some even wondering if she was trying to make a profit off the party.
"That is absolutely insane. I would definitely decline. Surely if you are throwing the party, you pay for everyone? She sounds cheap," one user wrote.
This article was originally published on