Moderna Now Testing COVID Vaccine on Infants, Kids
Here's what Moderna's newest vaccine trials mean for parents and their kids.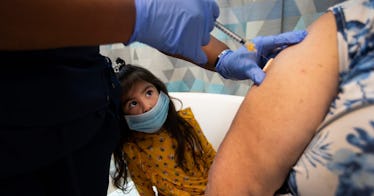 GETTY
Moderna has opened up its vaccine trials to kids under 12 and infants as young as 6 months.
President Biden has promised that he would ensure teachers get at least one dose of the COVID-19 vaccine by the end of March. That he'd produce enough vaccines for all adults in the United States by the end of May. That he'd ask all states to open up vaccine eligibility to every adult by the beginning of May.
While all of this is great news, it leaves a very big population group in the United States out of vaccine eligibility: kids. And now, Moderna has announced that it has begun vaccine trials in kids 12 and under, down to infants as young as six-months-old.
Moderna Isn't The First To Test On Kids
The move follows Johnson & Johnson's announcement that they'd soon be testing the vaccine on under-18's, babies, and pregnant people, and that their vaccine to be available to some of those groups by September. Moderna's already been testing the vaccine on kids age 12 to 17.
Pfizer, on the other hand, has begun testing the vaccine in kids age 12 to 15, and is already authorized for kids 16 and up. AstraZeneca's vaccine has begun to be tested in kids six years and older.
Here's Why The Trials Matter
Quite frankly, vaccinating children is an important hurdle to herd immunity against COVID-19. Testing the vaccines in children is just the first step in ensuring that we can vaccinate children as kids head back to school and day cares.
While research has consistently shown that kids are usually not as seriously affected by COVID-19 as adults and elderly people are, that doesn't mean that they are immune, and indeed, kids have died from COVID-19. Death isn't the only fear, of course. Many children have been hospitalized while fighting COVID-19, a scary situation that no parent wants to go through.
Parents, and the American Academy of Pediatrics, understandably want protection for their children as they re-enter classrooms and playgrounds, these trials are a step in the right direction.
How the Study Will Be Done
About 6,750 kids, per CNN, have been enrolled in the vaccine study between the ages of 6 months and 11 years old in the United States and in Canada.
The two-part trial will have different vial doses tested on kids, with all participants being vaccinated 28 days apart at different microgram doses. Six-month-olds to 1-year-old infants will be given two doses at 25, 50, or 100 micrograms; kids from 2 to 11 will get 50 or 100 micrograms of the dose.
The findings from these doses will inform part two of the study, which will help solidify which doses are used on which age groups, and will also include a placebo/control group of kids who don't receive any vaccine. The kids will all be watched for a year after their second dose.
Monitoring the children is largely to see how effective the vaccine is when children come into contact with COVID-19, a virus that may become endemic to the world, like the common cold or influenza, as we all receive vaccines.