Moderna Could Vaccinate Tweens, Teens By Back-to-School Season
Moderna could begin rolling out the vaccine to tweens and teens by the time they head back to school in the fall.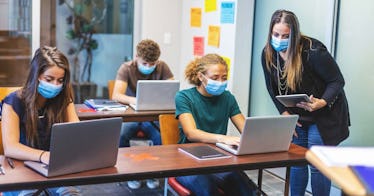 In the morning of March 17, 2021, Moderna's president Dr. Stephen Hoge revealed major good vaccine news on TODAY when it comes to making sure tweens and teens will be inoculated against COVID-19. While the breaking news yesterday was that the company had begun trials on infants as young as 6 months up to kids as old as 12, buried in the lede was that Moderna, much like Johnson & Johnson, had already been undertaking trials in kids aged 12 to 17. And it looks like those are going well enough to where tweens could get vaccinated very soon.
Hoge said of the study of 12 to 17-year-olds: "We expect to have data from that 12 to 17 TeenCove study, hopefully perhaps by the summer, so we could be vaccinating adolescents going into the school year." Vaccinating kids age 12 to 17 against COVID-19 would be a gamechanger for several reasons — not least of which because tweens and teens would be protected against COVID-19 as they are asked to re-enter school buildings, and from potentially spreading it. A big study in South Korea in July of 2020 revealed that bigger kids and teens — between 10 and 19 — spread COVID-19 just as well as adults do, while kids under 10 transmit COVID-19 far less often than tweens, teens, and adults do. Vaccinating kids from 12 to 17, then, is not just about keeping those kids safe from COVID-19, but about reducing the likelihood that they'll spread COVID-19 to others, like teachers and school staff, and their parents. Plus, any person vaccinated against the deadly virus is another step toward herd immunity, a major step toward defeating COVID-19. That being said, it looks like the vaccination of kids age 6 months to 12 years old will rightfully and understandably take a little bit longer to get started. Hoge noted it would "take a little longer," adding that it would probably take most of 2021 to get a good handle on data. Still, good news is good news.
This article was originally published on