Moderna Vaccine Effective For At Least 6 Months — What That Means
The vaccine is proven to be effective for at least six months, but here's what that actually means.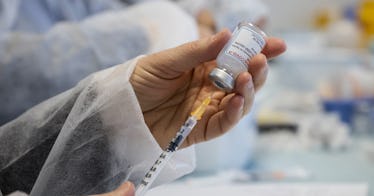 GETTY
Good news: after reports revealed that the Pfizer vaccine was effective for at least six months after the second immunization, new data has revealed that the Moderna vaccine is just about as effective.
The Moderna shot is remaining 90 percent effective for up to six months after the second dose of the life-saving vaccine. The company's data from Phase 3 of its trials also revealed that it was more than 95 percent effective against severe COVID for up to six months after the second dose.
Here's what the six-month efficacy actually means, how it brings Moderna one step closer to full authorization by the FDA, and if Moderna is working on any boosters in order to fight emerging COVID variants or keep the vaccine effective for longer.
What to Know About Moderna's Efficacy
The phase 3 trial data found that antibodies produced from receiving the Moderna vaccine jab were still found in people six months post-vaccine and that the vaccine remained 90 percent effective against preventing COVID and 95 percent effective against severe COVID-19 in that time period.
Just because the vaccine is effective for six months after the second dose, doesn't mean that the antibodies suddenly disappear immediately after the six-month mark.
In fact, as Moderna continues to study the vaccine's efficacy, the 6-month data is a sign that the vaccine could be effective well beyond the six-month marker that both Moderna and Pfizer passed with flying colors. And that six-month data marker is mostly necessary because it's a step that the vaccine makers have to make in order to get full authorization from the FDA.
"I think it's fair to estimate that they will both have decent efficacy for many months beyond this," Dr. Isaac Bogoch told CNBC about both the Pfizer and Moderna vaccines.
What Does This News Mean For "Full Authorization?"
The FDA needs six months of data post-vaccine for full authorization and approval. Full authorization is much preferred to Emergency Authorization, which can be taken away at any time.
As Moderna inches towards full approval, they will also continue their studies on adolescents, kids, babies, and more, ensuring the vaccine is safe and effective for people under 18. They will also study how long the initial doses of the vaccine will be effective.
The vaccine maker will also continue studying boosters, which may be needed against certain COVID-19 variants, like the South African COVID-19 variant.
It's widely expected that all of these vaccines will have a revaccination program, as said Pfizer CEO a few weeks ago when their vaccine was shown to be just about as effective six months out from the second dose.
At the time, Pfizer CEO Frank D'Amelio said that it's "increasingly likely that an annual revaccination is going to take place" and that COVID will likely become an endemic virus.
Either way, Moderna'ss vaccine efficacy update is extremely good news, and it could mean that the vaccine receives full approval sooner rather than later, just on the heels of Pfizer vying to do the same.
Okay, what happens after 6 months?
The short answer is nobody knows yet. But the evidence suggests Moderna is effective for at least 6 months.
This article was originally published on