Moderna Study: COVID Vaccine 100% Effective For Kids 12+ — Here's What to Know
This is great news. Here's what to know.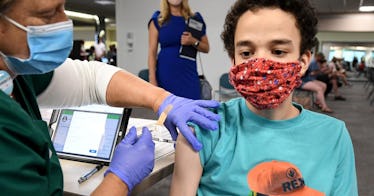 GETTY
On Tuesday, May 25, Moderna officially announced that the COVID-19 vaccine they offer is 100% effective at protecting children between the ages of 12 and 17 against the coronavirus.
The TeenCOVE study, which confirmed that the vaccine was safe and effective for adolescents, is a necessary step and great result for the company, which plans to submit study data to the FDA, CDC, and other health bodies in early June in order to authorize the vaccine in the use of young teens, at a time when access and authorization are expanding across the board.
The great news comes at a time as well when the vaccine pace is slowing down, after the most enthusiastic of people, and those who could afford to get away from work, have already received their doses and new focus is given to teens, hesitant adults, and adults who want the vaccine but haven't been able to access it.
Here's what you need to know about the study, what it means for your 12-year-olds, and what it could mean for the 2021-2022 school year given the CDC's hint that their guidelines for safely operating classrooms could change come fall and the guidelines that fully vaccinated people do not need to wear a face mask in most cases.
Here's What the Study Revealed
The study, of 3,700 participants between 12 and 17, was a resounding success. The vaccine was found to be 93 percent effective in kids between 12 and 17 after the first dose, and 100% effective after the second dose. Two-thirds of the participants received a placebo, and none of the kids who got both vaccines got COVID-19. There were four COVID-19 cases of kids who didn't receive the vaccine, reinforcing the efficacy rate.
Side effects were on track with what adults have experienced: pain at the injection site, headache, fatigue, chills, etc.
The company will submit its results to the FDA for emergency authorization in early June; barring catastrophe, the company will begin to have its vaccines offered to kids alongside Pfizer, which was just recently approved for children 12 and up. It could take just a week or several weeks for the vaccine to be approved for that age group.
How Significant Is This For Kids?
It is pretty significant. As more and more adults have been vaccinated, children have become the larger share of COVID-19 cases as they are not protected against the virus. And though children, in general, are less likely to get sick, or get seriously ill or die, of COVID-19, that risk factor is not zero.
And kids can still pass the virus to others, a meaningful vector for the continued proliferation of, and passage of variants of, COVID-19. Per USA Today, children represent 14.1 percent of all COVID cases, making them no small group.
There are 17 million kids in the United States age 12 to 15. Opening up another vaccine option to them at a time when vaccine rates are lagging, as hesitant adults refuse so far to get the vaccine, and many others are left out because they can't get time off work, will help inoculate more people and slow the spread.
What Does it Mean for School?
It could mean that kids 12 and up — so basically sixth graders to high school seniors — could be eligible to be fully vaccinated, and even get fully vaccinated, by the time that schools open their doors in the fall.
What that means for the CDC school guidance is, for now, unclear.
Just a few weeks ago, CDC director Rochelle Walensky confirmed that the agency wouldn't touch the CDC guidelines for how to operate schools safely for the rest of the 2020-2021 school year, shortly after updating mask guidelines for vaccinated adults. How these new vaccine authorizations, and how the rates of vaccinations for teens play out going forward, could shift how the CDC's guidelines look.
But for now, it's a guessing game, as only a third of parents surveyed by the Kaiser Family Foundation were interested in getting their children vaccinated as soon as a vaccine for their age group was approved.
This article was originally published on