Moderna Will Seek Emergency Use Authorization of Vaccine for Kids Under 6
Kids under 6 account for approximately 18 million people, and those under 5 remain the only age group without an authorized vaccine against COVID-19.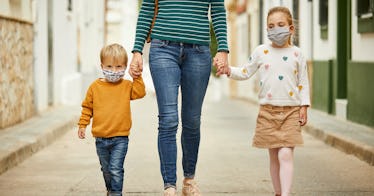 Morsa Images / Getty Images
Moderna hopes to get the OK from the U.S. Food and Drug Administration (FDA) for emergency use authorization (EUA) of its COVID-19 vaccine for kids under 6.
Moderna has said that it will apply for vaccine authorization for the age group, and it couldn't come at a more necessary time. Just a few weeks ago, after Pfizer applied for an EUA for its under-5 vaccine, the company quickly pulled its application after the two-dose regimen failed to produce enough protection against the virus in young kids, largely due to unresolved dosing issues. Now, Moderna has stepped up to get its own under-6 vaccine authorized by the FDA.
Here's what parents need to know about the results of the vaccine study, and when it could be authorized and rolled out for kids.
Moderna seeks EUA of a low-dose COVID-19 vaccine for kids under 6.
On March 23, Moderna shared its timeline plans to submit a request to the FDA "in the coming weeks" for emergency use of its COVID-19 vaccine for kids ages six months to six years of age.
The authorization would be for a two-dose vaccine schedule. Each dose would be 25 micrograms, 25% of the first two Moderna doses that adults received in their vaccine schedule. In comparison, the Pfizer adult dose is 30 micrograms, and the under-5 Pfizer dose is three micrograms.
"Given the need for a vaccine against COVID-19 in infants and young children, we are working with the U.S. FDA and regulators globally to submit these data as soon as possible," Moderna CEO Stéphane Bancel said a statement.
Moderna's vaccine for kids under 6 showed promise in the trials.
The company stated its interim results from the clinical trial showed that kids under 6 had similar immune responses to young adults. However, the effectiveness in preventing symptoms should the children contract COVID wasn't as strong.
The Moderna vaccine was "only about 44 percent effective in preventing symptomatic illness among children six months to 2 years old," the New York Times wrote. The vaccine was also "37 percent effective in children 2 through 5 years old." However, no cases of severe COVID-19 were reported during the trials.
The company is currently studying the possibility of a booster shot for the under-6 kids. According to the New York Times, one of Moderna's top officials expects there will be a need for a booster in this age group, too.
During the trials, no adverse effects of the vaccine were observed in the age group. However, side effects of the vaccination were similar to what the other age groups experienced: low-grade fever and body aches.
The Moderna release said these results are "consistent with other commonly used and recommended pediatric vaccines."
A vaccine for kids under 6 isn't available yet.
Children under 6 are the only age group that doesn't have an approved vaccine against COVID-19. However, as restrictions and health mandates lift across the country, having the younger age group vaccinated, which accounts for approximately 18 million people, will ease some worries parents are feeling two years into the pandemic.
There's isn't a clear timeline for when Moderna's vaccine for kids under 6 will be sent to the FDA for EUA. However, the company vaguely said, "in the coming weeks," so it could come as early as mid-April. That could mean that if the vaccines are approved, they could be rolled out by May.