One of the World's Largest Juice Brands Has Been Recalled in 8 States
Check your juice, even if it's been sitting around for a while, because it has a very long shelf life.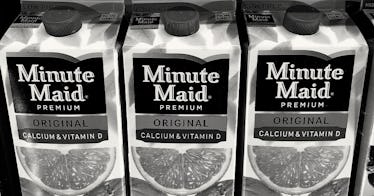 GETTY
The Coca-Cola Company is asking consumers to check the Minute Maid products they have at home. Why? The company has issued a voluntary recall due to the potential that the products may be contaminated with foreign objects. Specifically, the juice may contain metal washers or bolts.
What Minute Maid Juices Have Been Recalled?
The 59-oz cartons of Minute Maid's Fruit Punch, Strawberry Lemonade, and Berry Punch flavors have been affected by the recall, according to the Food and Drug Administration (FDA).
A total of 7,475 cases of product were recalled and removed from shelves in Connecticut, Maine, Maryland, New Jersey, New York, North Carolina, Pennsylvania, and Virginia.
The FDA has registered the voluntary recall as a Class II incident, meaning "a situation in which use of or exposure to a violative product may cause temporary or medically reversible adverse health consequences or where the probability of serious adverse health consequences is remote."
So far there have been no adverse incidences related to the recalled product, but the agency and The Coca-Cola Company are asking consumers to check what they have at home.
"This product did not meet our high-quality standards due to the potential presence of foreign matter," Coca-Cola spokesperson Ann L. Moore said to People. "We took this voluntary action because nothing is more important to us than providing safe, high-quality products to the people who drink our beverages."
Yes, You Should Look at the Juice in Your Pantry
Although the affected products have been removed from the shelves at the stores, the company is strongly suggesting consumers check what they have at home. The products that have been recalled don't expire until January 2022, so you may have purchased them well before they were removed from the shelves.
How to Find Out if the Juice You Have Is Part of the Recall
If you are concerned you may have the recalled product, the FDA has listed the specific UPC codes, batch numbers, and expiration dates to crosscheck what you have at home. If you do have one of the products the agency suggests consumers throw them away or return to where you purchased them for a refund.