10 Outfits That Prove the Minnie Mouse Pantsuit "Controversy" Is Totally Bogus
Probably safe to say that society is going to be just fine.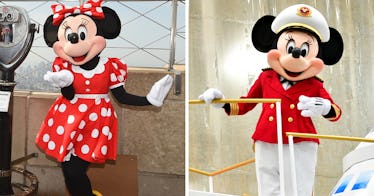 Michael Loccisano/Getty Images; Eugene Gologursky/Getty Images
Minnie Mouse is a Disney character that has been around forever. Many of us know her in the various renditions she's taken on since she's been around since 1928. She's iconic, up there with Mickey in terms of character recognition. Until now, Minnie Mouse has never really caused controversy, because she is a cartoon mouse that kids love. But the executives at Disney have chosen to — gasp! — put her in a pantsuit for a temporary design change in a suit designed by Stella McCartney, and everyone is losing their minds.
According to Newsweek, political commentator Candace Owens has complained about a temporary redesign of Disney's Minnie Mouse. However, during an appearance on Fox News, Owens made controversy where there isn't any.
The temporary design change sees Minnie Mouse rock a black and blue polka dot pantsuit instead of her red and white polka dot dress. Owens said the new look on the cartoon mouse is an attempt to "destroy fabrics of our society," which is, honestly, super dramatic.
This pantsuit isn't even close to the first time Disney – whether in cartoon form or costume form – has swapped out her iconic look for something else. It's not even the first time she's been in pants or shorts!
Minnie has a long history of temporarily rocking a different look, sometimes because it makes sense (like she's playing sports) or just wants to try something new.
Here's a look at 10 outfits that prove this Minnie Mouse pantsuit "controversy" isn't based on anything because she's always loved her pants.
1. Minnie Mouse Basketball Outfit
Minnie Mouse temporarily rocked this basketball outfit while supporting the Special Olympics in 2020.
2. Minnie Goes Skating
Minnie enjoys roller-skating with Mickey. But, honestly, the most "controversial" thing here isn't her shorts—she's holding Mickey's hand!
3. Minnie Mouse Soccer Outfit
In 2019, Minnie rocked a soccer uniform with shorts while visiting the Wide World of Sports on the WDW Marathon course!
4. Minnie Working in Overalls
While fixing a swing for herself in the yard, Minnie chooses overall shorts because that's more practical than wearing a skirt.
5. This fabulous vacation look
Sometimes on vacation, it just feels good to switch up your look, and Minnie's done that just fine here.
6. Minnie on a Walk
Even though Daisy Duck opted to go on a walk while wearing her typical outfit, Minnie Mouse swapped hers for a more practical pair of shorts.
7. Minnie on a Cruise
There's no reason, practically, that Minnie couldn't have worn her polka dot dress while on a cruise, but we happen to think she looks cooler in her pantsuit.
8. Minnie in Snow Pants
Minnie's not too cool for snow pants when winter and snow come calling.
9. Minnie on the Go
Look at how happy Minnie is with her super cute fall outfit – her purse matches her pants!
10. A Whole Look for Minnie
Minnie kept her polka dots but switched the reds for pinks and the poufy skirt for some well-fitted pants.
It's pretty safe to say that Minnie wearing a pantsuit for a month isn't going to "destroy the fabric of society." Also, pantsuits are just comfortable.