Micro Machines Are Back. Here's How to Explain Their Awesomeness to Your Kids.
Hasbro is betting that today's kids will be just as into these tiny toys as you were in the '90s.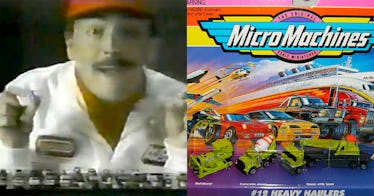 Hasbro/Amazon
The latest nostalgia-fueled reboot isn't a movie or a TV series; it's a toy. Gizmodo reports that Micro Machines, the smaller-than-Hot Wheels vehicles that made their debut in 1987, just in time to become a must-have for Toys 'R Us kids in the '90s.
Micro Machines were insanely detailed despite their small size, with details like logos, tire tracks, and paint jobs accurate on vehicles just a bit longer than a quarter. The details meant there was real variation between models which made collecting them a big part of the fun.
'90s kids also loved the playsets that doubled as carrying cases. They typically looked like a non-micro car or truck with a handle on top for easy transport between sleepovers. And instead of merely opening, these playsets would unfold, revealing a ramp- and track-filled environment for your Micro Machines to zoom around in.
Micro Machines were made by Galoob, a toy company based in San Francisco whose other notable product was the Game Genie, another '90s classic. Hasbro bought Galoob in 1998, and Micro Machines faded into relative obscurity.
There have been some lackluster attempts to revive the brand over the years, mainly through licensing deals with Star Wars and Transformers. But this time Hasbro licensed the line to Wicked Cool Toys, a Jazwares company that is trying to revive the brand itself, not just the form factor of tiny cars.
Starting in the fall, an updated Super Van City playset — modeled after one of the most popular playsets of Micro Machines' heyday — will be available for $50. That will get you 20 different locations designed to make the most of the cars—a suspension bridge, drag strip, off-road course, etc.
Unknown at the moment is whether or not Wicked Cool Toys will bring back John Moschitta Jr., who voiced over 100 different Micro Machines commercials, each with the catchphrase "Remember: If it doesn't say Micro Machines, it's not the real thing."
Moschitta is the World's Fastest Talker according to the Guinness Book of World Records, and it honestly wouldn't feel like a true Micro Machines comeback without him spitting out syllables at a furious pace.
More Micro Machine playsets will be officially introduced at Toy Fair 2020, which runs from February 22 to 25.
This article was originally published on