Michigan To Finally Test Flint Children Exposed to Lead
Up to 30,000 children will be tested to see how lead poisoning may have affected their learning and behavioral development.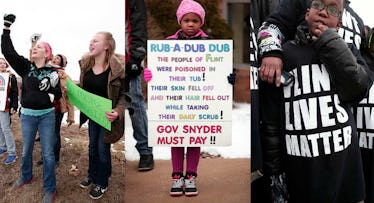 Getty Images
After a long legal battle, the state of Michigan has agreed to pay an estimated $4 million to test nearly 30,000 children from Flint for developmental delays following the lead exposure crisis that started nearly four years ago.
Back in 2016, 15 families from Flint sued several Michigan education agencies, including the state's Department of Education, claiming that schools were failing kids with developmental delays by not properly assessing how lead poisoning may have affected the children's behavior. According to the CDC, any amount of lead exposure is unsafe for a child and can lead to "damage to the brain and nervous system, slowed growth and development, learning and behavior problem, and hearing and speech problems."
"This is all happening because we had population-wide lead exposure," Mona Hanna-Attisha, director of the Pediatric Public Health Initiative and Pediatric Residency Program at the Hurley Children's Hospital in Flint, told BuzzFeed News. "Our children were exposed for 18 months, unknown to them, to a potent, irreversible neurotoxin."
With this new settlement, which was filed yesterday in the US District Court for the Eastern District of Michigan, up to 30,000 children from Flint could be tested for developmental delays caused by lead exposure. Greg Little, chief trial counsel for the Education Law Center, which is one of the attorneys representing Flint families, told BuzzFeed News that this will allow parents and schools to finally understand how the lead crisis has affected kids.
"It's absolutely essential that every child who was exposed to lead in water has an opportunity for a screening process to determine if they need additional services and programs," Little said.
If approved by the state legislature, the funds will be available by July 18. Hanna-Attisha said that more than 900 people have already pre-enrolled for screenings and she hopes that over 140,000 will have enrolled by September.
This article was originally published on