Michelle Obama Podcast Exclusive Clip: My Dad "Taught Me I Mattered"
Michelle Obama has written books and given countless speeches, and now she's releasing a podcast, and we have an exclusive first listen.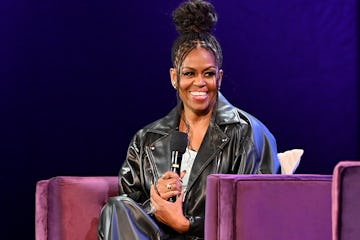 Derek White/Getty Images Entertainment/Getty Images
Michelle Obama's next venture is just around the corner. In partnership with Audible and Higher Ground, the former First Lady is releasing a weekly podcast titled Michelle Obama: the Light Podcast, an extension of her latest bestselling book, "The Light We Carry: Overcoming in Uncertain Times." The first episode will be released on March 7, and Fatherly has an exclusive first listen.
The podcast "goes beyond the book" as Michelle and friends explore themes like "building meaningful relationships; issues connected to race, gender, and visibility; the habits and principles they have used to successfully adapt to change and overcome obstacles; and the importance of lighting up for others to reveal the richness and potential around us."
And if this podcast is anything like her book, her stellar parenting advice, and her candid talks about how to make marriages work, we're in for a real wisdom-packed treat.
In the exclusive clip of the first episode shared with Fatherly, Michelle talks about her father, the late Fraser C. Robinson III, and how he shaped her view of the world.
"If you talk about who has affected me most and how I see the world, and who gave me the foundation to know that I mattered, to understand that... you got to find your light from within, that it is not handed to you, nor should you expect anybody to hand it to you — it was my father," Michelle shares.
Fraser, who died in 1991 from complications with Multiple Sclerosis, a disease he was diagnosed with when he was 30 years old, was "a bright light," Michelle says, and was always there for his family, his siblings, and his wife's siblings — ready to always lend a hand.
And it was his positive attitude that stuck with Michelle. "You know, he was satisfied with what many of us would think would be this small life," she shares. "But he knew his life was big. He knew he was fortunate. So whatever challenges he faced, he turned those into gold."
And Michelle has taken those lessons into her life and watching his qualities growing up allowed her to see the value in how Fraser tackled the world.
"It's hard for me to ever feel sorry for myself. It's hard for me to ever let anybody else get me down because I think about what my father did getting up every day to go to work, not complaining, being an honest man, being an honest broker," she shares.
And she sees a lot of her dad in her husband. Her dad's outlook "is one of the reasons that helped me see that in Barack," Michelle admits. "You know, I saw those qualities in him in the same way I saw them in my father."
Audible Original Michelle Obama: The Light Podcast debuts Tuesday, March 7, on Audible, with new episodes released weekly.