Michael Jackson's Son Blanket Parties With His Siblings; Celebrates New Name
No one understands you like your siblings.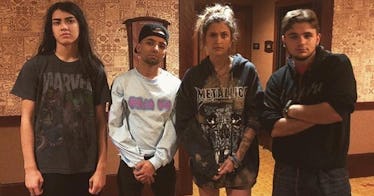 Blanket Jackson is celebrating two significant milestones in his life, and his siblings are right there with him cheering him on. The youngest child of the late Michael Jackson celebrated his 18th birthday with his siblings, Paris Jackson and Prince Michael Jackson. Oh, and Blanket also changed his name some time ago. Here are all the details.
Although his legal name was Prince Michael II Jackson, he was better known to the world as his nickname "Blanket" given to him by his father, who said it was a term of endearment. In 2015, he changed his name to Bigi, said in part due to bullying he received over his nickname. His siblings have been supportive of his name change, and recently posted to Instagram to celebrate Bigi's 18th birthday.
Paris, who is 21 years old, paid tribute to her younger brother on social media, one of the first times she's highlighted him on her large Instagram platform with 3.5 million followers. She writes, "My little brother is a legal adult today. what the f—," Paris posted alongside several throwback pictures. "I used to change his diapers. this is such a trip.. proud of the handsome, intelligent, insightful, funny, and kind young man he has become. he likes privacy, so that's all I gotta say. hbd lil bro."
23-year-old Michael Joseph Jackson Jr., also known as Prince, celebrated his little brother Bigi on social media, too. He shared several snapshots from the birthday celebration to his Instagram stories on Friday. All three siblings enjoyed a sushi dinner together to celebrate Bigi's big birthday.
"Thank you, @yamashirola and @chefvallerie, for helping us celebrate Bigi's 18th bday!!" Prince wrote in his stories with a picture of the meal they shared.
Bigi has always been the quiet one of the three, usually out of the public eye, and it's rare to see so much spotlight on him. But, there is something special about siblings—the only ones who can empathize with the stress of losing their famous father when they were so young and understand the pressures of living in the public eye. Always good when you can go out and party with those closest to you.