Mexico Coach Says Neymar's Flopping Teaches Kids Bad Sportsmanship
Mexico manager Juan Carlos Osorio complained that Neymar's excessive flopping teaches a bad lesson to kids.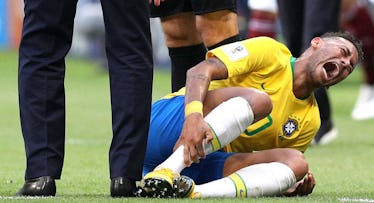 Getty Images
Yesterday, Brazil handily took down Mexico in the first-round of the knock-out stages of the World Cup, sending Mexico home despite their strong showing in their first three games of the tournament. Juan Carlos Osorio, Mexico's manager, was understandably upset after the game, complaining that the referees were biased against his team and that several calls didn't go their way.
But even more than the loss itself, Osorio seemed to take issue with Brazilian superstar Neymar's antics during the game. In the second half, Neymar took flopping to its most absurd potential when he began flopping around and screaming hysterically after a light foul, only to be happily trotting around on the pitch a few moments later. Osorio felt this over-the-top display wasn't just bad for the sport, it's bad for kids who are watching as well, as they might be learning some bad lessons about fairness and sportsmanship.
"It's not a good example for soccer, and for the world of soccer, for all the kids playing," Osorio told reporters at his press conference after the match.
This is hardly the first time someone has complained about the excessive nature of flopping in soccer but Osorio's complaint is somewhat unique because it specifically focuses on the way this sort of behavior might be affecting the millions of kids who are watching the World Cup. And given the fact that Neymar is both one of the best players on the planet and known for his intense commitment to the art of flopping.
Still, many would argue that, much like managers angrily complaining about bad calls and lack of sportsmanship after a tough loss, flopping is just a part of the game, whether we all like it or not. And if it really disturbs anybody that much, they'll have the opportunity to once again root against Neymar and flopping during Brazil's match against Belgium this Friday.