Metallica Mondays Are Here to Rock Your Quarantine Blues
Here's how to stream the shows.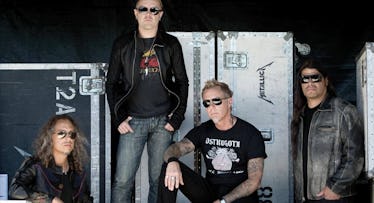 Credit: Facebook / Metallica
As the days stack on top of each other and we're stuck inside, these quarantine days are taking its toll. We are doing our part and distancing ourselves socially, and we're left craving something—anything—outside our new routine. Thankfully, Metallica is answering that need, and they've started "Metallica Mondays" to bring us out of our funk. Here's what you need to know.
On March 23td, the heavy metal band announced they were planning to debut a new streaming concert series called "Metallica Mondays." In the announcement, the hall-of-fame group said each night they would share archived footage of past shows and post to Facebook and YouTube to give their fans something to do, and it's totally free.
"Need to take a break from Netflix before you binge-watch the entire library?" the band writes on Facebook. "Introducing our brand new concert series: #MetallicaMondays, debuting tonight on our YouTube channel and on Facebook for free!"
The first live video started the series playing a June 2019 Metallica concert 'Live at Slane Castle' show, which took place in Ireland. They played several of their hit songs and the first 20 minutes of their set, including "Whiskey in the Jar," "The Unforgiven," "Ride the Lightning," and "The Memory Remains."
This streaming of old concert footage may seem like nothing to celebrate, but their first live Metallica Monday was a huge hit. With over 2.2 million views and nearly 30,000 shares on Facebook alone, people really needed this break in their week. And a good concert is a good concert no matter how old it is.
Comments flooded in thanking the band for giving them something. One person writes, "Not sure why, but this made me cry. It's been such a crap day here all around, and just hearing 'live' music was what I needed." And that' person's sentiment wasn't alone, and there are over 30,000 comments under the video on Facebook alone.
With nearly 40 years together as a band, they have a lot of old footage that they can bring to their MetallicaMonday live concerts. The group hasn't announced what old footage they will be playing each week, but with their Damaged Justice Tour considered one of The 50 Greatest Concerts of the Last 50 Years by The Rolling Stone, and hundreds of hours of footage to choose from, each Monday is going to be better than the last.
You can tune into MetallicaMonday on the band's Facebook or YouTube channels.