Men Painting Their Nails Goes Mainstream: Understanding Menicure
Because everyone deserves color in their lives.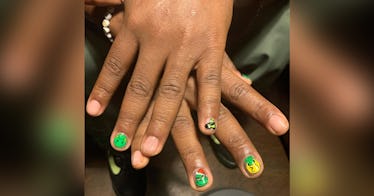 nailsbymei / Instagram
Fashion is ever-evolving and sometimes the trends make sense, and other times they don't. The fashion trends the break molds and tear-down long-standing ideas or perceptions are the best kind because they end up bringing more open discussion and freedom. And it seems men painting their nails is having a moment to do just that. It's being called the "manicure" and here's what this new mainstream phenomenon is all about.
According to Garrett Munce, a writer for Esquire, men sporting manicures, complete with colored polish, is happening now, and it seems to be a slow, steady organic type of trend. He describes in his article being at a party, himself with painted black nails, and seeing other men with "a little something extra on [their] nails." And he's spotted several other menicures while going about his daily life.
Elle spoke to Mei Kawahiri, founder of Nails by Mei, who says the menicure, "all started with Demna Gvasalia at the Balenciaga show a few years ago," and several high-profile celebrity guys, including Harry Styles, Asap Rocky, and Pete Davidson, have been seen with their nails painted since. And Kawahiri credits rapper ASAP Ferg with introducing the idea of colored manicured nails to his entire crew.
Munce reminds us that the idea of men wearing polish on their nails isn't entirely new. Back in the music days of grunge, with Kurt Cobain, and even David Bowie, along with the emo-phase, polish was part of the trend, but it was more subtle, and often just black color was used. Now, men are going all out and choosing nail art designs.
Gone are the days where we have to think in absolutes—manicured nails are not only for females, and everyone deserves to have fun and color in their lives. Munce recommends that guys who want to try out polish stick to neutral colors, like black or grey, simply because that makes it easier to match to what you're wearing. But if you want to be bolder and try out long nails like Jonathon Van Ness or design patters like Marc Jacob, all the power to you! Have fun with it.
While Kawajiri told Elle that this trend is "really popular with celebrities," that doesn't mean you can't live like a celebrity in this regard. Essie has named Jonathan Van Ness as its latest ambassador because they want to promote self-expression and inclusivity – and because they are paying attention to the trends, market, and demand for gender-neutral products.
Chance are we are going to see more and more inclusion of men in the manicure space, and everyone deserves some color in their lives.
This article was originally published on