Meghan Markle's Miscarriage Op-Ed Reveals The Power In Three Magic Words
Markle shares the pain of her miscarriage and the power of asking "Are you ok?"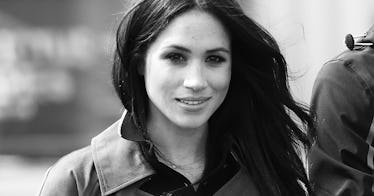 Getty
Meghan Markle has opened up about the pain of suffering a miscarriage.
In an Op-Ed essay published in the New York Times on the morning of November 25th, Markle, who moved stateside with her husband Prince Harry as they extricated themselves from the grips of the royal family, revealed that in July, she and her husband experienced pregnancy loss.
"It was a July morning that began as ordinarily as any other day: Make breakfast. Feed the dogs. Take vitamins. Find that missing sock. Pick up the rogue crayon that rolled under the table. Throw my hair in a ponytail before getting my son from his crib," she writes. As soon as she changed her son Archie's diaper, she revealed, she felt a sharp cramp in her stomach.
She knew something was wrong pretty quickly, and hours later, she and Harry were in the hospital, experiencing an extremely common, but often not-talked-about, event: pregnancy loss and miscarriage.
But the bulk of the essay is not dedicated to the personal, intense, and overwhelmingly grief-ridden experience that miscarriage can bring to a couple. Instead, she spends most of her time writing about three words that have a magic power.
"Are you OK?"
Markle brings up perhaps the most earth-shattering moment (for outsiders, at least) in her time as a traditional royal — after giving birth to Archie, Markle and her husband were touring South Africa when a reporter asked her if she was ok.
She was breastfeeding a newborn and experiencing the viciousness of the UK press, all while still dealing with issues with her father. "Thank you for asking," she said in a one-minute audio clip that was heard around the world. "Not many people have asked if I'm OK."
She wrote about that moment in the essay and compared it to looking at her husband while they experienced grief that shattered their hearts.
"I realized the only way to begin to heal is to first ask, 'Are you OK?' Are we? This year has brought so many of us to our breaking points. Loss and pain have plagued every one of us in 2020, in moments both fraught and debilitating," she notes. That's true whether it be the pain of losing someone to COVID-19, to getting sick themselves, to dying by police brutality and ineptitude — she brings up both Breonna Taylor and George Floyd by name.
"Losing a child means carrying an almost unbearable grief, experienced by many but talked about by few. In the pain of our loss, my husband and I discovered that in a room of 100 women, 10 to 20 of them will have suffered from miscarriage. Yet despite the staggering commonality of this pain, the conversation remains taboo, riddled with (unwarranted) shame, and perpetuating a cycle of solitary mourning," she says. "… So this Thanksgiving, as we plan for a holiday unlike any before… let us commit to asking others, 'Are you OK?' As much as we may disagree, as physically distanced as we may be, the truth is that we are more connected than ever because of all we have individually and collectively endured this year."
Indeed, it's been a tough year for most everyone, in different and deeply personal ways. But in some ways, we're not alone, because it's been a global experience, even if the individual contours of our grief and suffering are ours individually. Markle, by opening up about the pain of her miscarriage, has invited everyone else to answer her question: Are you OK?
This article was originally published on