Meghan Markle and Prince Harry Looking to Extend Royal Exit Deal
They've "re-hired" some staff and have meetings scheduled for January.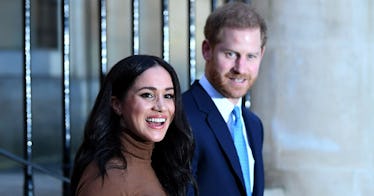 GETTY
The year 2020 has been a big one for so many people. It's hard to think back to everything that's happened because there's just been so much. It feels like forever ago now, but in January 2020, Prince Harry and Meghan Markle announced they were stepping down as working members of the royal family. It was drama that went on for months; they made a deal with the Queen that is set to expire on March 31, 2021, and it looks like the Duke and Duchess of Sussex are hoping to extend that deal. Here's what that means.
It's been close to a year since the royal parents announced they were changing the course of their life. Harry and Meghan basically gave three-months' notice that they were leaving their jobs as "working members" of the royal family. It was a lot more complicated than we would have assumed. The couple had to sit through many discussions with the Queen and other senior royals to work out all the details of what "stepping down" would look like. The deal they eventually agreed on was set to expire after a year – and that year mark is just around the corner – and they want to have it extended.
Specifically, in terms of their agreement, Prince Harry and Meghan wish to hold on to their royal patronages, charities, and organizations they officially support. They also want to revisit Harry's honorary military posts, which he was stripped of as part of the initial agreement. As part of the deal, the two were able to keep their royal titles, though it was stipulated that they could not use them as part of any of their personal endeavors.
Harry and Meghan have been working hard since moving to California in order to turn all their visions into reality. They've paid back the UK for the restorations and renovations to their cottage, returning the taxpayers' money. They've also been able become financially independent, inking deals with Netflix and Spotify, rumored to be worth over $100 million.
Since those deals were made official, they've reportedly started working on several projects with Netflix. And the royal couple dropped their first podcast on Spotify, with a special Christmas episode.
And those big money deals will become part of the discussion Harry and Meghan have with their family back in the UK to make their bid to maintain their royal patronages and continue their own careers. Royal aides and other senior members of the family will reportedly be looking closely at the commercial deals to make sure they don't damage the ideals of the family.
Meghan and Harry have reportedly already re-hired back two UK staff members they let go when they stepped down from their roles. This is a good sign they're confident they can have their deal with Buckingham Palace, and the Queen, extended. These two staff members will help facilitate business between the couple's patronages in the UK while they continue to live in the US.
"Although they will do some of it by Zoom, Harry wants to meet face to face to tie it all up," a royal biographer told The Sun. "Things seem to have calmed down. Harry has been in contact with the Queen more often than you would think. But certain things you need to be there in person to sort. They will need a few weeks. That could be done after April, depending on Covid."
There's a reason people always say not to mix business with family. And while that's impossible for the royal family, we hope, for all their sakes, they can figure this out.
This article was originally published on